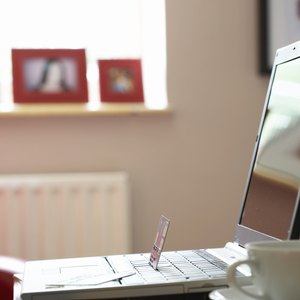 •••
Martin Poole/Photodisc/Getty Images
You can purchase a Visa gift card in stores or online. If you choose to order online through Visa.com, you can choose to have the card mailed to you or the recipient, or delivered electronically via email.
Selecting a Gift Card
Visit Visa.com and select "Get a Card Online" to browse Visa gift card online providers. Read the eligibility criteria necessary to buy the gift card. For example, Commerce Bank only offers Visa virtual gift cards in certain states, while BCU only offers cards to its banking members. GiftCardLab.com provides a wide variety of Visa gift cards designs and styles that are delivered via email. You can even upload your own design to create a custom gift card. As of publication, a $5.95 fee applies to each gift card. Read the terms and conditions before purchasing. Giftcards.com is also listed on the Visa website. The card denominations range from $20 to $500, with fees ranging from $2.95 to $4.95.
Payment and Delivery
After selecting the card, you'll need to enter the recipient's full name and email address. Carefully review the email address to make sure it's correct. Enter your name and billing information to complete the payment. Since Visa gift cards aren't reloadable, you don't have to worry about reoccurring charges. Your recipient will receive an email within 24 hours containing a link to the gift card. You'll also receive a confirmation email. The recipient will need to activate the gift card before it can be used.