How to Send Money to a Person
by Cathy O'Brien ; Updated July 27, 2017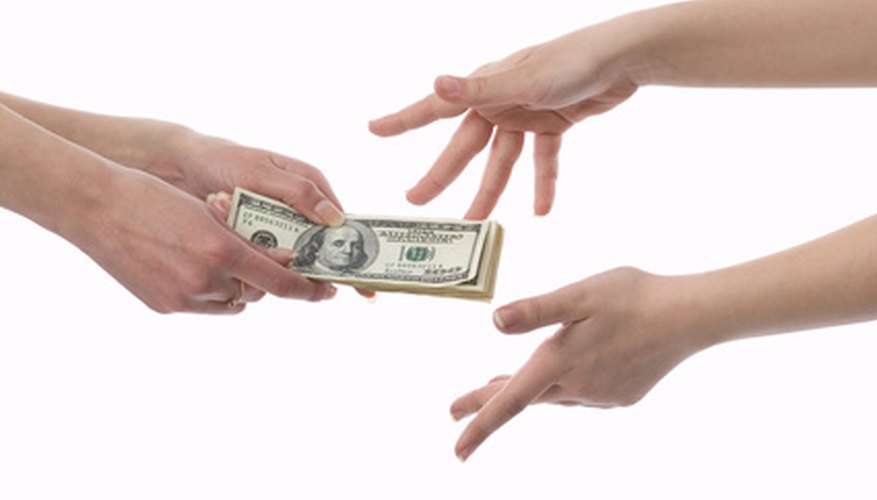 Items you will need
Bank account
Identification
It is important to know how to send money to someone. You may need to send money to someone when you purchase an item through a classified ad or if you have a friend or relative in need of cash. Sending a check in the mail can be risky. If the check does not reach the intended person, your money could end up in the wrong hands. The two safest ways to send money are through a bank wire transfer or through an online account.
Bank Wire Transfer
Step 1
Ask the person to whom you are sending money to give you his account number and bank routing number. These are the numbers the bank will ask for when you are at your bank branch to wire money.
Step 2
Bring your identification to the bank. You will need to show proper identification at the bank branch in order to wire money out of your account.
Step 3
Speak with a bank teller or a bank manager. She will take your account information and the account information of the person you are wiring money to in order to process the transfer. She may have you sign a document that will authorize the wire transfer and record account information from the transaction.
Step 4
Pay the required fee. There is a fee for wire transfers. Each bank's fees vary.
Step 5
Call the person to whom you wired money and make sure he received the deposit into his account.
Electronic Funds Transfer
Step 1
Choose your electronic funds transfer method. Funds can be sent electronically through the U.S. Post Office, online banks and PayPal.
Step 2
Ask for the PayPal address or the bank account information from the person you wish to send money to by electronic transfer. If you are sending electronic funds to someone using her bank account, you will need her account number and bank routing number.
Step 3
Log into your online bank account or your PayPal account. Click on the tabs that direct you into your account.
Step 4
Click on the tab that instructs you to send money. This tab will have an online form you can fill out with the money transfer information.
Step 5
Click "Send." This should automatically send the money to other person's account.
Step 6
Call or e-mail the person to whom you sent money and make sure she received the money in her account.
Tips
Wire transfers and electronic transfers can take up to 48 hours to process.
Warnings
Make sure you know how you are going to send the money. You can always call the other person's bank prior to sending him money to ensure that he is the person who should receive the money.
Photo Credits
money makes money image by Andrey Andreev from Fotolia.com