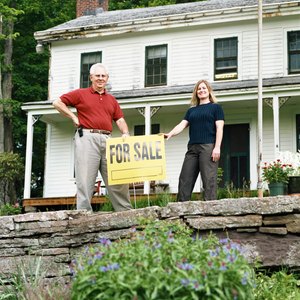 •••
Creatas/Creatas/Getty Images
If you have time, an interest in real estate research and marketing and are a good negotiator, you're in a good spot to sell your house yourself. But a "for sale by owner" -- FSBO -- is not without costs. You're saving a hefty real estate commission, but the process can benefit from the help of other outside professionals. You can't pay an unlicensed person to sell your home, as real estate transactions are bound by state licensing boards.
Research past sales in your community by tapping into online real estate websites to establish a price for your house. Read your local newspaper's real estate section online, as it may carry listings and sales -- although the listing prices do not reflect sales. Check out how long properties have been the market, as the number of days they've been for sale may reflect incorrect pricing. Consider hiring a professional appraiser to place a current market value on your home and offer the appraisal to interested parties.
Hire a fee-for-service real estate agent who takes a fee to place your listing in the local multiple listing service, or MLS. Agree to work with a buyer's agent as an incentive for other agents to show your home. State in your listing you'll pay a specific percentage to buyers' agents -- usually half of the full commission for your area.
Attend open houses in your community and pick up brochures the agents offer. Copy the format and make flyers for your own property, including recent photographs showing its main living areas and exterior. Write bullet-point descriptions of improvements you've made and point out what makes your home special. Include all your phone numbers. Deliver the flyers to companies with human resource departments and track records of hiring from out of the area. Local colleges relocating educators into your town are a good source of buyer referrals. Place a "for sale" sign in front of your home, if possible, and include a receptacle for the flyers.
Advertise your house in your local newspapers and on classified ad websites. Announce your listing on Facebook and Twitter pages to let your sphere of influence know your home is for sale.
Keep your home clean, free of clutter and well maintained, inside and out. Get a licensed home inspector to write a report on the home's systems and appliances. Offer it to prospective buyers. Buy a home warranty to reassure buyers of the condition of your systems. Repair any damage that would turn a buyer away.
Review only those offers that come with a mortgage preapproval letter or commitment notice, and have contact numbers for lenders to give to potential buyers who aren't preapproved. Negotiate from your head, not your heart, and entertain the offers of serious buyers only. Build a professional team around you that works in your interest, especially if you question any portion of the purchase contract. Some states require an attorney for closings or other components of the transaction; check your state's real estate commission to discover state rules and regulations. Buy seller's title insurance from a title company and use their services to close your transaction.
List your home for less than its current market value if a quick sale is in your best interest.
References
Tips
List your home for less than its current market value if a quick sale is in your best interest.
Writer Bio
Jann Seal is published in magazines throughout the country and is noted for her design and decor articles and celebrity *in-home* interviews. An English degree from the University of Maryland and extensive travels and relocations to other countries have added to her decorating insight.