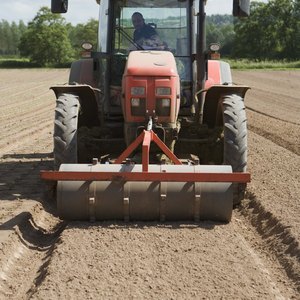 •••
Jupiterimages/Polka Dot/Getty Images
The Dow Jones Industrial Average, or simply the Dow Jones, consists of 30 stocks representative of large U.S. firms. The Dow Jones Company divides American industry into 10 sectors. The industrial index includes nine of them, omitting only the utilities sector and the transportation components of other sectors. At publication, the five largest sectors make up more than 75 percent of the Dow Jones.
Industrials
Industrial stocks make up the largest sector of the DJIA, with a total of 22.19 percent. The industrials sector includes construction, construction materials, industrial goods and services, but it excludes transportation industries, such as railroads and trucking. The top component of this sector is Caterpillar, Inc., which makes up 6.67 percent of the total index value. The 3M Company comes second, at 5.12 percent. Stocks in the index are weighted by price, and statistics are current as of February 29, 2012, according to the Dow Jones website.
Technology
The second-largest sector of the Dow Jones, technology, represents 17.56 percent of the total index. (This sector includes industries such as computer services, software and computer equipment. The top component in technology is IBM Corporation, with 11.50 percent of the entire index, the largest of any company. Hewlett Packard Company and Microsoft are also represented in this sector.
Consumer Services
The consumer services sector represents 14.49 percent of the Dow Jones Industrial Average. Retail, broadcasting, publishing and travel come under this umbrella. McDonald's Corporation is the largest component, making up 5.80 percent of the overall index. Wal-Mart Stores, Inc. and Walt Disney Company are other representatives in this area.
Oil and Gas
The oil and gas sector makes up 11.43 percent of the Dow Jones. This classification includes energy producers, equipment, services and distribution and alternative energy. The largest component is Chevron, with 6.38 percent of the total index, and Exxon Mobil makes up the remaining 5.05 percent.
Consumer Goods
Consumer goods make up 10.25 percent of the Dow Jones. This sector includes auto manufacturers and distributors, food and beverage companies, residential constructors and makers of personal and household products. Companies from this sector include Coca-Cola and Proctor and Gamble, each with approximately 4 percent of the index value.The selection committee chooses stocks based on investor interest, reputation and growth. Because of the 30-stock limit, the index does not necessarily include all possible industries within a sector.
Other Sectors
Four additional sectors make up approximately 25 percent of the Dow Jones. The financial sector includes banking, real estate, financial services and insurance. Representative companies include American Express and Bank of America. Health care consists of care providers, equipment, supplies and pharmaceuticals, as exemplified by Merck and Pfizer. Telecommunications includes fixed and mobile service providers, such as Verizon and AT&T. Alcoa represents the final sector, basic materials, which includes mining, metals, chemicals and forestry.