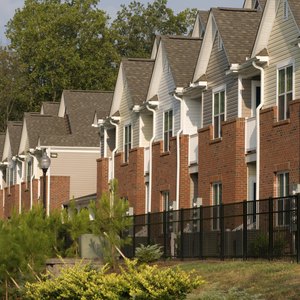 •••
eddie green/iStock/Getty Images
Low-income families, the elderly and disabled residents of Illinois can obtain rent subsidies through Section 8. The Department of Housing and Urban Development funds the Housing Choice Voucher program and works with state and local housing authorities to administer it. Although HUD sets income limits and other eligibility guidelines for Section 8, it is up to local public housing authority to determine applicant and property eligibility.
Renter Income and Household Size
Renter eligibility is based on household income and size. You can receive a voucher if you meet an Illinois jurisdiction's income limits, which HUD sets annually based on the area's median income. Most Section 8 vouchers are reserved for households classified as extremely low income, which means they earn 30 percent or less of the area median income for their household size. Remaining vouchers generally go to very low income households, which earn no more than 50 percent of the median income.
As of 2017, Illinois statewide median income was $62,992. In Lake County, a family of 4 in 2019 can earn no more than $25,400 to qualify as extremely low-income, and make no more than $42,300 to qualify as very low income.
Rental Unit Eligibility
The rental unit you choose also must qualify for Section 8. Participation of the private landlord or management company is required. Landlords must agree to an inspection of the rental unit, repair the property as needed and adhere to all other program guidelines. HUD sets minimum health and safety standards for Section 8 rental units. The local housing authority inspects these units on an annual basis to renew eligibility. This helps ensure the safety and decency of Section 8 housing.
The rent amount must be deemed reasonable. HUD sets fair market rent limits for each area of Illinois. For example, a Lake County 2-bedroom property could not exceed $1,820 in certain zip codes at the time of publication.
Application Process Involves A Waitlist
Eligibility is determined on a first-come, first-served basis and applicants are subject to a waiting list. However, the local housing authority may give priority placement to households with certain hardships, such as families dealing with homelessness, substandard housing or involuntary displacement.
You can request a pre-application to get on a waiting list when a housing authority's wait list opens. Due to high demand and relatively limited funding, wait lists may open only occasionally -- once a year or every few years. You formally apply for a voucher when your wait-list number is reached. You have 90 days after receiving a voucher to find a qualifying rental unit.
Documents Needed to Verify Eligibility
Applicants must be U.S. citizens or have legal resident alien status. You must provide Social Security numbers, IDs or state driver's licenses, and birth certificates for all household members. You also must submit proof of income for all household earners, including:
salary and wages
Social Security, Veteran and unemployment benefits
child support and alimony
pension benefits.
You must show proof of assets, such as savings. Applicants with a drug-related or violent criminal record are not eligible for Section 8. Past fraud or eviction in connection with federally assisted housing programs also disqualifies you from Section 8.
References
Writer Bio
Karina C. Hernandez is a real estate agent in San Diego. She has covered housing and personal finance topics for multiple internet channels over the past 10 years. Karina has a B.A. in English from UCLA and has written for eHow, sfGate, the nest, Quicken, TurboTax, RE/Max, Zacks and Opposing Views.