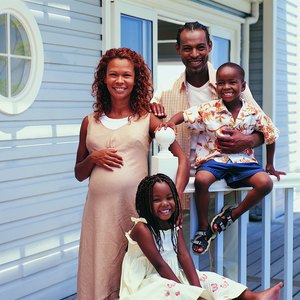 •••
Digital Vision./Photodisc/Getty Images
Charlotte's elderly, disabled and low-income families can apply for subsidized rental housing through Section 8. Formally known as the Housing Choice Voucher Program, it allows qualified applicants to either rent a privately owned townhome, condominium or house or a government-owned apartment unit for a portion of the fair market rent. Section 8 participants can either get a tenant-based voucher for a rental of their choice or a project-based voucher that remains with the government-owned unit. The Section 8 application process usually involves a pre-application, a waiting list and a verification process.
Apply With the Local Housing Agency
The Department of Housing and Urban Development funds the Housing Choice Voucher program throughout the country. It delegates a certain amount of funds to states, which in turn provide funding to local housing agencies. The Charlotte Housing Authority administers Section 8's voucher programs to the local community. HUD maintains a list of approved housing agencies for Section 8 and other low-rent housing programs.
Waiting Lists and Pre-Application
Apply to get on a waiting list for the Section 8 application process. You only can apply when the housing agency opens its waiting list, which may take several years due to the high demand and limited funding for vouchers. You may only have a minimal amount of time to apply, such as four days, and you may have to apply online. As of May 2019, the Charlotte Housing Authority's waiting list for public housing for families and seniors/disabled persons is open indefinitely, but the Housing Choice Vouchers waiting list is closed indefinitely.
Public Housing Eligibility
A smaller portion of Section 8 vouchers go to project-based Section 8 housing, which may open its waiting list more frequently. You must apply directly with the property manager at a project-based Section 8 housing site. The property manager and the housing agency determine eligibility. Check the CHA website for open waiting lists.
Checking HUD's Income Limits
Check HUD's income limits for Mecklenburg County to determine whether you're eligible for Section 8. Charlotte income limits are based on the county's median income for the latest year. As of tax year 2017, the county's median income was $65,750 and you could not earn more than 50 percent of this to apply for Section 8. Most vouchers go to extremely-low income families, which earn 30 percent or less of the median income.
Income limits also are based on family size. For example, at the time of publication, a family of four in Charlotte couldn't earn more than $37,050 to qualify as very-low income or $25,100 to qualify as extremely-low income.
Application Information and Documents
If you are selected from the preliminary waiting list, the CHA collects income, asset and household information as part of the formal application process. It verifies your employment, income and family composition by various means, including contacting your employer and third-party government agencies. Homeless families, those paying more than 50 percent of their income in rent, the involuntarily displaced, elderly and disabled may receive priority placement in the program. You also must supply official documents, such as:
Birth certificates
Government and non-employment based award letters
Custody documents
Proof of immigration or legal resident status
Social Security cards
State ID or Driver's License
References
Writer Bio
Karina C. Hernandez is a real estate agent in San Diego. She has covered housing and personal finance topics for multiple internet channels over the past 10 years. Karina has a B.A. in English from UCLA and has written for eHow, sfGate, the nest, Quicken, TurboTax, RE/Max, Zacks and Opposing Views.