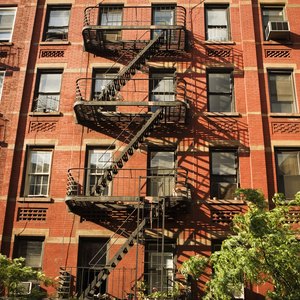 •••
Medioimages/Photodisc/Photodisc/Getty Images
The United States Housing Act of 1937 sought to improve the quality of housing for Americans, especially disadvantaged and low-income citizens. Section 8 of the act declared that the government would provide rental assistance to lower-income families and individuals seeking housing, and it set out the guidelines by which the government would give that assistance. The Section 8 program is still a crucial support for low-income families in the U.S. today.
How Renters Qualify
To qualify to receive Section 8 benefits, a family's income has to be less than 50 percent of the median income in the area they're applying, or occasionally 80 percent of the median income with certain exceptions. The U.S. Department of Housing and Urban Development (HUD) determines the rental contribution each family makes, which usually does not exceed 30 percent of the family's adjusted income or 10 percent of their gross income, whichever amount is greater. HUD then issues qualifying families a voucher that they can use for rental of any participating property, including apartment buildings and single-family properties.
How Housing Providers Qualify
Only public housing agencies who seek to provide housing to low-income families can qualify to participate in the Section 8 program. In areas where no qualifying public housing agencies exist, private nonprofit organizations may qualify. A contract is drawn up in which HUD determines how many units in a building will be reserved for Section 8 families and the rental value of each unit based on the current market. HUD then pays owners the difference between the established value of a unit and what it is determined the occupying family should pay.
Ongoing Requirements for Owners
Owners must abide by the terms of their Section 8 contracts, including reserving the agreed upon number of units for Section 8 families, keeping the property clean, safe and in good repair, and providing financial accountability to HUD. Owners also have the responsibility to select Section 8 tenants on the basis of income and tenancy requirements and in a non-discriminatory way. HUD reevaluates the rental value of a participant's Section 8 units at least annually.
Tentants' Rights and Responsibilities
Renters who receive Section 8 benefits must sign a standard lease that is usually a year in length. They must abide by the terms of the lease, but an owner can only evict Section 8 renters for serious or repeated breaches of the lease as well as illegal or unsafe activities. Families receiving Section 8 benefits must submit proof that their household income still qualifies them for the program at least once a year.
References
Writer Bio
Amy Wilde has worked as a grant developer, copy editor, writing tutor and writer. Based in Portland, Ore., she covers topics related to society, religion and culture. Wilde holds a Bachelor of Arts in English literature and classical civilization from the University of Toronto.