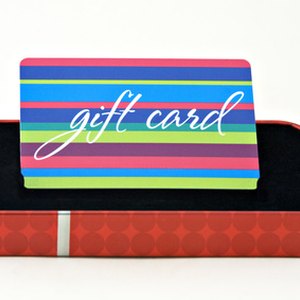 Sears is a well-known chain of department stores founded in the late 19th century. Sears merged with Kmart in early 2005, but their combined holdings operate under separate brands as of 2010. A number of brands with thousands of stores across the country comprise the Sears Holdings Corporation, the parent company. Buyers can use gift cards from Sears to make purchases at any of these stores both online and in person.
Purchasing Rules
Sears gift cards are available in amounts from $5 to $500. If you would like to purchase in larger amounts, you must buy multiple cards. You can purchase cards online, by phone or at any of their collection of stores, including Kmart. Purchases made online can also take the form of an "eGift". Instead of a card, a gift card number, PIN and instructions for how to use it are emailed to the recipient. There are no fees for purchase or use of the card. Accepted forms of payment include PayPal, eBillme or the following credit cards: Sears Card, Sears Premier Card, SearsCharge Plus, Sears Commercial One, Sears Gold MasterCard, MasterCard, Visa, American Express and Discover.
Brands
A gift card purchased at Sears or at any of the companies owned by the Sears Holdings Corporation can be used across all store brands. Subsidiaries currently include the Sears department store, Kmart, Sears Grand, Sears Hardware, Sears Essentials, Sears Optical, Sears Outlet, the Great Indoors, Orchard Supply Hardware and Lands' End. There are currently more than 2,000 Sears locations nationwide.
Card Rules
Sears gift cards are not redeemable for cash or credit in whole or in part. If you have a balance remaining on your card after a purchase, you cannot get the difference given back to you in cash. You will need to use the card for a future purchase. You cannot use the card for payment on Sears credit accounts. The gift card is considered the property of Sears. If you lose your card or it is stolen, it will not be replaced. Sears states that the card will never expire.