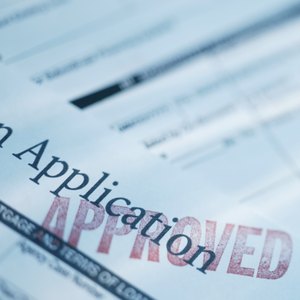 •••
Comstock/Comstock/Getty Images
Loan officers evaluate business organizations and people who wish to finance personal and business ventures. Working with formulas and computer programs, loan officers gather and analyze information to determine whether the applicant meets the guidelines necessary to obtain financing. The education needed to be a loan officer depends on what type of position is desired.
Consumer Loan Officers
Consumer loan officers work with people seeking to obtain loans for cars, home improvements and other personal purchases and activities. The loan officer guides applicants through the loan process using set procedures and guidelines, called underwriting, to determine eligibility. Consumer loan officers need at least a high school diploma or GED to enter the profession. Most banks will provide on-the-job training to help acquaint you to the processes and responsibilities of the position. Loan officers use computer-based underwriting programs to validate and help make loan decisions. Banks offer on-site training or provide opportunities to complete coursework in the use of lending software.
Commercial Loan Officers
Commercial loan officers work with businesses to provide financing for buying materials and supplies and for starting ventures. Because the position requires analysis of financial documents and business plans, most positions require a bachelor's degree in economics, business or finance. Commercial loan officers seeking additional knowledge and expertise can pursue a commercial lending diploma through additional coursework provided by the American Bankers Association. This coursework covers banking laws, accounting and leadership skills. To establish credentials illustrating your knowledge of commercial lending, seek out the Certified Lender Business Banker, or CLBB, certification provided by the Institute of Certified Bankers.
Mortgage Loan Officers
Mortgage loan officers work with businesses and individuals seeking to obtain financing to purchase property. Mortgage processing is a complicated and regulated process; therefore, mortgage loan officers must be licensed as a mortgage loan originator. As a result of the Mortgage Licensing Act of 2008, licensing requires completion of at least twenty hours of coursework in ethics, federal law and regulations, and mortgage origination. In addition, licensed mortgage loan originators must complete at least eight hours of continuing education each year. Mortgage loan officers working for commercial banks insured by the FDIC do not have to be licensed; however, pursuing licensure and continuing education enhances your ability to sell mortgage products and follow regulations.
Important Qualities
Loan officers interact extensively with people and businesses. As a result, you will need to have the interpersonal and problem-solving skills necessary to explain loan application processes to clients and to deal with problems that may arise during the lending process. Loan officers often act in as sales associates, promoting banking products to potential clients, which requires you to have initiative, a professional appearance and positive demeanor. Working as a loan officer requires the highest level of ethics and knowledge of laws and regulations.
References
Writer Bio
Amanda Schroeder holds a BS in Hospitality Management from Keuka College and a MSed in Vocational Education from SUNY Oswego. She has experience in restaurant management and is educated in school district business administration. Schroeder is currently teaching business and family and consumer science in New York State.