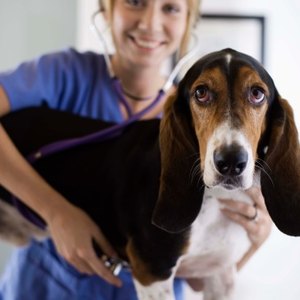 •••
Jupiterimages/Brand X Pictures/Getty Images
Veterinary science was once dominated by men, but today nearly 77 percent of graduates are women, according to a January 2010 Wall Street Journal article, "Why Are There So Many Women Veterinarians?" Many factors contribute to the influx of women veterinarians, such as flexible hours and job security. Another factor is the availability of scholarships exclusively for women pursuing a veterinary degree.
Association for Women Veterinarians Foundation
The Association of Women Veterinarians Foundation annually sponsors eight scholarships for second- or third-year female veterinary students. Candidates must be attending a veterinary school in the United States or Canada to qualify for the $1,500 award. Along with the application, interested women should submit a 500-word essay describing their career goals and why they need the scholarship, a resume from college years to present and a letter of recommendation from a faculty member at the student's school. Applications for the scholarship can be submitted online through the Association for Women Veterinarians website.
Mahindra USA Women in Agriculture Scholarships
Sponsored by Mahindra Tractors, the Women in Agriculture Scholarships go to female students interested in agriculture careers, including veterinary science. Four $2,500 scholarships are awarded each year, and the money can be used for tuition, room and board, books or other educational fees. Scholarship recipients are judged based on academics, leadership roles and interest in agriculture; winners may be asked to participate in award ceremonies. Interested students can apply online through the Future Farmers of America website, which administers the scholarship for Mahindra Tractors.
Emery and Agnes Kern Memorial Scholarship
Available to students at Oregon State University involved in the College of Veterinary Medicine, the Emery and Agnes Kern Memorial Scholarship provides tuition money to female veterinary science majors. The scholarship goes to first-year students based on academic performance and involvement in college activities. Because the scholarship is funded by a private endowment, the amount of the scholarship and number handed out varies each year, based on available funds. Students can contact the office of the dean for an application and up-to-date information.
Elizabeth Anne Baldwin Scholarship Fund
Female students at Tufts University's Cummings School of Veterinary Medicine qualify for the Elizabeth Anne Baldwin Scholarship. The fund, established in 2002 by the family of Elizabeth Anne Baldwin, assists women students at the school concentrating on small animal medicine. The scholarship is based on financial need, and students must be enrolled at least part-time to qualify. The number of scholarships and amounts distributed each year vary, contingent on available funds. Scholarship applications can be found online through the Cummings school financial aid office website.
References
Writer Bio
Lindsey Thompson began her writing career in 2001. Her work has been published in the Cincinnati Art Museum's "Member Magazine" and "The Ohio Journalist." You'll also find her work on websites like Airbnb, Chron.com, and USAToday.com. Thompson holds a Bachelor of Science in journalism from the Scripps School of Journalism at Ohio University.