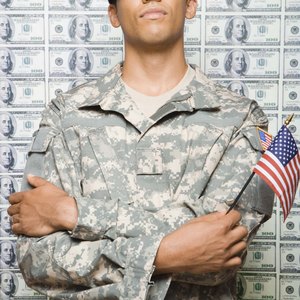 •••
Jupiterimages/Creatas/Getty Images
There are dozens of scholarships and grants designed specifically to benefit the children of the military, whether their parents are veterans, retired or active-duty. Several organizations, as well as each branch of the U.S. military and its reserve/guard components, offer financial help for service children.
American Legion Legacy Scholarship
The American Legion Legacy Scholarship was founded in 2004 to provide college assistance to children of parents who died while on active-duty military service on or after Sept. 11, 2001. This is a renewable scholarship aimed at helping high school seniors who are preparing for college and those already working toward an undergraduate degree. Individual awards vary, but as of 2012, the Legacy Scholarship has provided nearly $200,000 in college funds.
AMVETS
AMVETS, a major veterans services nonprofit organization, provides annual schol­ar­ships to veterans and active-duty mil­i­tary personnel, as well as their children and grand­chil­dren. This scholarship is based on academic achievement and financial need and is available to high school seniors, high school JROTC stu­dents who carry at least a 3.0 GPA and vet­er­ans pursuing a college education. Every year AMVETS awards each of six recipients $4,000 payable in four $1,000 installments.
Veterans United Foundation Scholarship
Veterans United Foundation, formed and funded by Veterans United Home Loans, provides five bi-annual $2,000 college scholarships to active personnel and veterans, as well as their spouses and children. Applicants must either be pursuing a degree at an accredited college or university or plan to attend college the following academic year. Applicants must also display financial need and maintain a cumulative 2.5 grade point average.
Our Military Kids
Our Military Kids offers grants of up to $500 to the children of active-service parents who have been injured in the line of duty and designated severely injured by the Veterans Administration. The grants are to fund sports, fine arts, camps and tutoring programs that help to sustain the children during a parent's recovery or rehabilitation.
Fisher House Foundation Scholarships for Military Children Program
Fisher House, which provides a "home away from home" experience for military families dealing with medical crises, sponsors the Scholarships for Military Children Program. Funded by suppliers of military goods around the world, SMCP funds at least one $1,500 scholarship per year at every commissary location at which qualified applications are received. Occasionally, more than one award is given per location.
General Henry H. Arnold Education Grant Program
The Air Force Aid Society sponsors the General Henry H. Arnold Education Grant Program, which provides $2,000 toward college expenses to the children of active, retired or deceased Air Force personnel. Applicants must have a minimum 2.0 GPA in high school and demonstrate financial need. AFAS has given almost 97,000 Arnold Grants as of 2012.