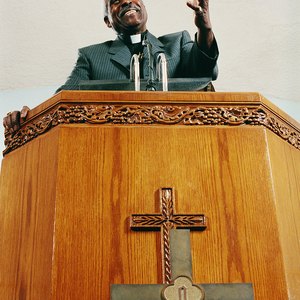 •••
Digital Vision./Photodisc/Getty Images
The cost of attending a seminary can reach as much as $50,000, said Don Davis, president of The Urban Ministry Institute. For some students who aspire to a pastoral career, the price can turn them away. Some financial assistance is available, however, and if you are African American aspiring to work in the ministry, you can apply for scholarships open specifically to you to offset some of the costs.
Margaret and Charles E. Stewart Scholarship Fund
Started in 1994, the Philadelphia Foundation provides Margaret and Charles E. Stewart Scholarships to African American seminary students. The scholarship is designed for seminary students currently serving or planning to serve in the Protestant black church. The applicant must be a full-time seminary student and carry at least a 2.5 grade-point average. The group grants the $500 scholarship as funds are available, meaning there is not a specific number of scholarships awarded each year.
Fund for Theological Education Dissertation Fellowship
For more than 50 years, the Fund for Theological Education Dissertation Fellowship has provided scholarships for seminary students. However, that fund did not award scholarships during the 2012 school year due to a restructuring of the scholarship. In 2013, the organization reopened the scholarship for African American seminary students in the final stages of writing their doctoral dissertations. One scholarship is awarded for $10,000. The chosen applicant also is required to attend select doctoral conferences and meetings sponsored by the organization.
Fund for Theological Doctoral Fellowship
The Fund for Theological Doctoral Fellowship gives one $18,000 scholarship annually to a first-year, African American student entering a seminary doctoral program. The scholarship award is set aside to help a seminary student pay for living expenses while attending school. Applicants who intend to teach theology at a seminary school or college have a higher chance of being selected and receiving the scholarship money.
Star Supporter Scholarship
African Americans who are members of the Christian Church and are entering seminary school have an opportunity to receive up to $2,000 per school year under the Star Supporter Scholarship. The selected student, however, must maintain a grade point average of 2.5 to receive the full award amount during the school year. An additional requirement during the application process is that students must demonstrate a financial need. Tax forms, a list of liabilities, debts, and other financial records are required as proof of financial need. The group selects as many as 18 African American seminary students for the annual scholarship.
References
Writer Bio
Nicholas Cole is an award-winning journalist with more than a decade of experience in news writing and reporting. He has also written promotional material, press releases and social media profiles, and provided consulting services for businesses worldwide. Cole holds a B.A. in journalism and communications.