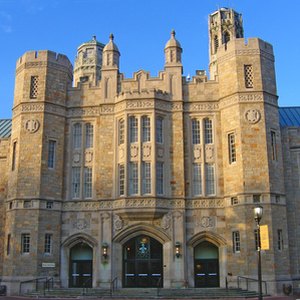 •••
college's building image by Leonid Tarassishin from Fotolia.com
According to projected figures from the National Center for Education Statistics, there were 3.3 million adults older than 35 enrolled in college in 2010. Adults go back to school to change careers or to receive training in their profession. The costs of a college education can strain budgets, but many companies provide support for employees returning to school. It's also a good idea to check with your chosen university for any aid they might offer to non-traditional students.
Western Governors University
Western Governors University is an online college based in Salt Lake City, Utah. The school partners with the American Association of Retired People Foundation to offer the AARP Foundation - WGU Educational Assistance Program, which awards scholarships valued up to $5,000 to adults over the age of 40. To be eligible, students must be over 40 at the time of admission, have around two years of college education (preferred), be able to prove financial need and be interviewed by a WGU Scholarship Counselor. The scholarship is good for 38 of WGU's degrees including those in health professions, information technology, business programs and teaching.
Talbots
Talbots, a specialty store for women's clothing, shoes and accessories, has been awarding scholarships to women seeking to return to college since 1997. The scholarship is designed for women from their late 20s to their 60s to return to college. In 2010, Talbots awarded one $30,000 Nancy Talbot Scholarship and 10 $15,000 scholarships. To be eligible women must live in the United States or Canada and have graduated from high school or received their GED at least 10 years before the date of application. They also must be attending or planning to attend either part or full-time at a two or four-year school, or an accredited technical or vocational school. Each woman who applies must also have at least two semesters (a minimum of 24 credit hours) remaining on their degree.
www.thetalbotsinc.com/brands/talbots/charitable.asp
Osher Foundation
The Osher Foundation defines reentry students as individuals who have experienced an interruption in their education of five or more years and who now want to resume their undergraduate university studies to complete their degree. This scholarship is intended to benefit students who have considerable years of employability ahead of them—ideally aged 25 to 50.
The Bernard Osher Foundation hosts the Osher Reentry Scholarship Program which grants $5,000 directly to student tuition at a number of state schools and private colleges across the country. To be eligible, a student must have a gap in his education of five or more years (cumulative), and be pursuing his first bachelor's degree. Students can be either part-time or full-time. The scholarship is awarded on a three-part process: Students must show the promise to complete their degrees, they must show financial need and they must demonstrate academic achievement.
References
Writer Bio
Nick Georgandis has been a professional writer since 1993. His work has been published by the Associated Press, "Sports Illustrated," "The Houston Chronicle," as well as several regional and local newspapers and magazines. Georgandis has a Bachelor of Arts in journalism from Texas A&M University.