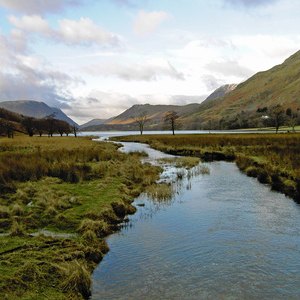 •••
mountain and lake scene,buttermere in the lake d image by adrian fortune from Fotolia.com
Game wardens are classified under the U.S. Bureau of Labor Statistics' "police and detective" category and while their focus is different, people in the game warden profession may find themselves in similar high-risk situations. The Virginia Department of Game and Inland Fisheries asks its prospective game wardens whether they feel they have the ability to investigate fatal hunting and boating incidents, take the life of another human being, enter remote areas alone and arrest larger, armed persons. Salaries for Virginia's game wardens were significantly lower than the national average for the profession.
Facts
The U.S. Bureau of Labor Statistics reports that its 2009 survey on wages revealed $54,950 as the national average salary for game wardens. This figure was much higher than the statewide salary earned by Virginia's game wardens in 2009. Virginia game wardens averaged $43,580 in 2009, $11,370 less than the national average.
Range
A segment of Virginia's 220 game wardens (as of May 2009) did earn salaries higher than the average for their counterparts in other states. In Virginia's highest-paid segment of game wardens in the 90th percentile, salaries averaged $65,420 annually. At the other end of the spectrum, game wardens in the bottom 10th percentile averaged salaries of $32,710 per year.
Considerations
Each state regulates game wardens on a individual basis. Some, like Virginia, use alternate job titles. In Virginia, game wardens are called conservation police officers and fall under the governance of the Virginia Department of Game and Inland Fisheries. Virginians interested in earning salaries as conservation police officers must be at least 21 years old and have a high school diploma or GED and a Virginia driver's license. Candidates must submit to physical, psychological, mental and polygraph tests before being admitted into the program's 29-week Basic Law Enforcement Academy. Upon Academy graduation, conservation police officers then attend a 15-week field training program.
Outlook
The BLS expects to add a relatively small number of game wardens to the profession by 2018, growing the field by 8 percent and 700 jobs. That number compares to the estimated addition of 57,300 police officers, for example, in that same period of time.
References
Writer Bio
Fionia LeChat is a technical writer whose major skill sets include the MS Office Suite (Word, PowerPoint, Excel, Publisher), Photoshop, Paint, desktop publishing, design and graphics. LeChat has a Master of Science in technical writing, a Master of Arts in public relations and communications and a Bachelor of Arts in writing/English.