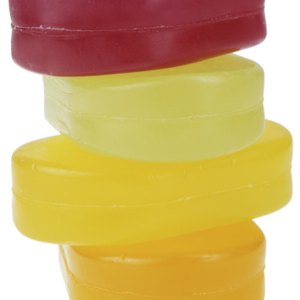 •••
Photos.com/PhotoObjects.net/Getty Images
The definition of a soapmaker is subject to interpretation, when one considers both the artisan making and marketing her homemade soap, and the employee within the soap manufacturing industry involved in the soapmaking process. Yet, a soapmaker might work for an artisan, instead of a larger manufacturing company.
Salary Vs. Income
When defining salary, it is normally the wages paid to an employee by an employer. Salary would not typically be income produced by a self-employed artisan, making and marketing soap. Yet, technically the artisan might pay himself a salary, depending on the structure of his company.
Soapmaker
The soapmaker typically blends chemicals to make soap, which can include the operation and setup of the equipment. The extent of the soapmaker's involvement in the process can vary by the needs of the employer. The soapmaker's responsibilities might include loading the equipment with the soap ingredients, weighing materials, inspecting materials, testing products, cleaning equipment, observing the process and maintaining safety standards.
Salary
The average salary for a soapmaker is $57,000 a year, according to Simply Hired. They calculate the salary by factoring in all jobs with the term "soapmaker" included in the job listing. While the MyMajor website does not include specific wage information for soapmakers, they offer wages of what they consider similar occupations. According to MyMajor, the median annual wage for mixing and blending machine setters, tenders and operators is $34,120, while the median hourly wage is $16.40. These are occupations they believe are similar in skill and salary to soapmakers.
Independent
The salary an independent soapmaker or artisan pays himself depends not just on the artisan's soapmaking skills and talents, but also on his marketing expertise and business savvy. An independent soapmaker who produces the best soap in the world might make a fraction compared to a mediocre soapmaker who possesses masterful marketing and business skills. One organization for independent soapmakers is Handcrafted Soapmakers Guild, Inc. It is a non-profit, international trade association promoting the handcrafted soap industry. WHAM website's article on homemade soaps as a home-based business states the salary range for a soapmaker is between $22,000 and $38,000 a year. Yet, it notes the independent soapmaker can earn more if they participate in writing, teaching or speaking engagements or sell related products along with soap.
References
Writer Bio
Ann Johnson has been a freelance writer since 1995. She previously served as the editor of a community magazine in Southern California and was also an active real-estate agent, specializing in commercial and residential properties. She has a Bachelor of Arts in communications from California State University, Fullerton.