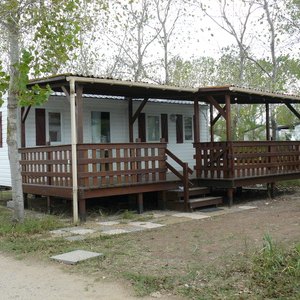 •••
Camping – Mobilhome image by albillottet from Fotolia.com
Rules and laws for installing a mobile home are governed under the Pennsylvania Manufactured Housing Improvement Act of 2004. The Department of Economic Community Development (DCED) governs and issues certificates and permits for manufactured homes. Pennsylvania laws and regulations require home retailers, installers and code officials to perform and comply with established codes and requirements. The state also adheres to guidelines set by the United States Housing and Urban Development Agency (HUD).
DCED Certified Installer Requirement
The State of Pennsylvania required that all manufactured (mobile) homes be installed by a Department of Community Economic Development (DCED) certified installer. These installers must have successfully completed DCED training courses. The homeowner cannot perform the installation unless they have been certified by the DCED.
Proper Grading of the Home Site
It is essential that the mobile home site be properly graded to provide runoff for ground water. Test and inspect for proper drainage and eliminate the possibility of water collecting during heavy rains and after snow.
Soil Support, Bearing Capacity and Stabilization
Your installer must be sure to accommodate your home for proper soil support, bearing capacity and stabilization. These are guidelines that make sure your home can withstand weather, aging and weight. Wind, rain, frost and snow can affect your floors, and shift the balance of your home as time progresses. Proper and professional expertise is needed to avoid these issues and prevent structural damage. Your installer must incorporate expertise in knowing how to anchor your home properly to prevent these occurrences.
Follow Home Assembly Instructions
Manufactured home retailers provide tested assembly instructions with their products, and base their warranties on the specifications they provide. It is imperative that your installer follow every step and detail of these instructions to protect your home and your investment.
Certificate of Compliance and Occupancy Permit
The Installer must obtain a "Certificate of Compliance" from the DCED. This certificate confirms that the installation meets State of Pennsylvania codes and regulations. Once the Certificate of Compliance has been granted, the installer will need to apply for the Occupancy Permit. The home cannot be occupied until after the compliance certificate and occupancy permit have been granted by the DCED.
Safeguards and Considerations
If you are the homeowner, exercise and demonstrate your interests in your mobile home investment. Be sure to make periodic site visits to check on progress. Confirm that proper certificates from the DCED have been obtained.
Manufactured homes are subject to many variables in terms of stabilization and the impact of weather. It is important that you resist the temptation to take cost-cutting shortcuts.
If you need additional professional help, consider hiring a licensed and experienced independent project manager to oversee the installation. This can provide you with additional confidence that your manufactured home installation has been performed to meet the requirements of the state of Pennsylvania and your needs as the homeowner.
References
Writer Bio
Cheryl Munson has been writing since 1990, with experience as a writer and creative director in the advertising industry. She holds a Bachelor of Arts in journalism with a focus on advertising from the University of Wisconsin in Madison.