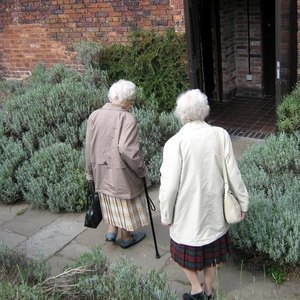 •••
elderly/women/ visitors entering together image by L. Shat from <a href='http://www.fotolia.com'>Fotolia.com</a>
Elderly group homes help serve the elderly community by placing individuals who need assistance in a smaller, more homelike atmosphere. The care that the elderly receive from a group home is more individualized than what they might find in nursing homes because the staff is trained to work with the individual's needs rather than of a variety of people's needs. Opening a group home for the elderly in Wisconsin ensures that more seniors in the state will receive the specialized care that they deserve.
Write a program statement about your elderly group home. This program statement should include a mission statement and a business plan for your home. The state of Wisconsin requires this before they approve any facility for operation. The business plan should include how you plan to bill for the group home and evidence that you have enough funding to be open for 60 days.
Find a location for your elderly group home. Now decide, does the location have enough room for all your potential residents? Does it have proper wheelchair access? Does it pass the state of Wisconsin's standards for group homes and assisted living facilities? You can find out if it passes at the Wisconsin state website by reading the Residential Care and Assisted Living Compendium (see Resources section).
Draw out a copy of your floor plan and any fire safety procedures that you have put in place. If residents already reside at your group home, you must perform three fire drills and the residents must be able to leave the property in three minutes or less.
Give the state of Wisconsin the following information to open your elderly group home. According to the State of Wisconsin's website regarding assisted facilities you will need, an AFH License Application/Report, a copy of the written program statement, a copy of your floor plan, documentation of insurance for the home and any vehicles that the residents are transported in, the license fee of $171.00, evidence of enough funding to run for 60 days, and the Certificate stating that you completed viewing "Starting an Adult Family Home Webcast" from the DQA Webcasts (see Resources section). Afterward you must sign a certificate that goes along with the video.
Hire a Human Resources manager for your elderly group home. They can conduct interviews of potential employees and keep track of all employee information. The HR manager can also deal with the day to day tasks of having employees, such as tracking pay, training employees, and doing payroll. Make sure to have the HR manager collect all employee vehicle insurance information, because this information is required for the state licensing procedure.
Download the forms for employee background checks before you hire people to work at your elderly group home (see Resources section). The state of Wisconsin requires that all employees in the caregiver field receive a background check. This ensures that you do not hire anyone who has participated in misconduct or who is banned from the care-giving field in the state of Wisconsin.
Train your employees so that they are equipped to aid the elderly. The state of Wisconsin requires that your employees are trained in fire safety, blood-born pathogens, proper medical procedures, first aid and CPR, lifting and assisting techniques, and behavioral training if needed for the residents that you serve. Additional training could include anything from proper food preparation to death and dying courses to how to deal with resident's behaviors that may be related to dementia or a disability.
Apply with the state of Wisconsin to have a survey conducted of your group home for the elderly. The state inspection is called a Survey, and you application packet with the state will show them that you want to open a certified/licensed group home. The requirements for opening a group home can be found at the Wisconsin state website.
Conduct the survey with the state of Wisconsin. A surveyor will walk through the home and make sure it is up to state regulations. They will also review your paperwork to ensure that you are up to state standards. After the survey you will be given a chance to write the state and tell them how you are planning on improving your group home and what you will do to prevent any mistakes in the future.
References
Writer Bio
Angela Reinholz is a full-time freelance writer. Reinholz started writing professionally in 2007, specializing in animals and social work with some branching off into legal matters. She has a Bachelor of Arts in psychology from Southern New Hampshire University and an associate degree in network administration from McIntosh College, located in Dover, N.H.