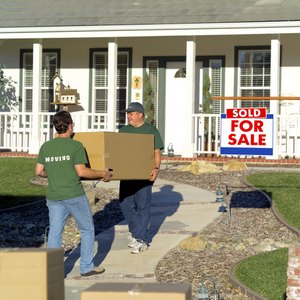 •••
Brand X Pictures/Brand X Pictures/Getty Images
Getting your home appraised is an integral part of the mortgage application process. Just as the lender ensures that the borrower is qualified to repay the loan, it must ensure the home is sufficient collateral to secure the loan. The validity of a home appraisal depends on the lender and the appraiser following certain rules in evaluating and reporting the home's value and condition. Other parties to a real estate transaction have limited participation in the appraisal process.
Function
A home appraisal has two main objectives: estimate the property's fair market value and denote deficiencies that may affect the home's future marketability. A lender must ensure that a home is financially and structurally sound, so the appraisal is intended to benefit the lender rather the buyer who pays for it. When used for a mortgage loan, the lender orders the appraisal through a third-party appraisal management company or directly from the appraiser. Neither the buyer, seller, real estate agent nor mortgage broker have a say in appraiser selection.
Appraiser Independence
Appraiser independence rules prohibit interested parties from influencing an appraiser's opinion. Over-valuation and fraud can occur when a real estate professional, seller or buyer pressures, intimidates or bribes an appraiser to arrive at a certain value or overlook problems with a property to facilitate a transaction. Individuals whose pay depends on the transaction's completion may not hire the appraiser. Other interested parties may only have limited communication with the appraiser. They may provide information requested by the appraiser, facts or data to correct an error on the report or provide other means of facilitating the appraisal process when asked to.
Basic Rules
Appraisers must avoid "subjective, racial, or stereotypical terms, phrases, or comments in the appraisal report," according to Fannie Mae. The appraiser must provide a factual, objective and unbiased opinion of the home's favorable and unfavorable characteristics and provide specific data, photos and commentary to back his opinions. An appraiser must be state licensed or certified to practice and possess the knowledge and experience to appraise a specific property type and in a specific market area. An appraiser must also have access to the multiple listing service, public tax and land records and other data sources to accurately complete an appraisal.
Government-Backed Loans
Federal Housing Administration and Department of Veterans Affairs loans have more stringent appraisal rules than conventional loans. The government agrees to reimburse lenders if borrowers default, making the low- and no-down payment loans less risky for lenders. The Department of Housing and Urban Development selects qualified applicants to conduct appraisals for the government programs and maintains databases of approved appraisers. They conduct more thorough visual inspections and follow more stringent guidelines. For example, VA and FHA appraisal rules require that defects in a property that affect occupant health and safety or structural soundness undergo repair before the loan is made.
References
Writer Bio
Karina C. Hernandez is a real estate agent in San Diego. She has covered housing and personal finance topics for multiple internet channels over the past 10 years. Karina has a B.A. in English from UCLA and has written for eHow, sfGate, the nest, Quicken, TurboTax, RE/Max, Zacks and Opposing Views.