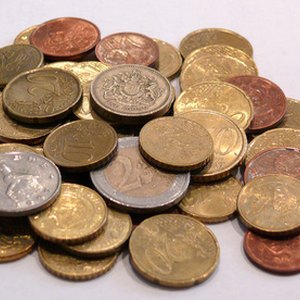 The euro is the currency used by many of the countries that comprise the European Union. The euro currency uses both paper bills and coins. Euro coins come in denominations of 1 and 2 euros, as well as, 1, 2, 5, 10, 20 and 50 cents. Because the currency uses so many different types of coins, it is easy to accumulate them and you may wish to roll them to store or to take to a bank and deposit.
Obtain coin rolls or coin packs. You can obtain paper rolls from a bank or office supply store, or you can obtain plastic coin packs on the Internet from a company such as thecointainer.com.
Separate your euro coins. Euro coins are rolled in like denominations and you must separate your coins prior to counting and rolling them.
Insert the euro coins into the roll wrapper or packs. The 1- and 2-euro coin rolls contain 25 coins, the 10-, 20- and 50-cent rolls contain 40 coins, and the 1-, 2- and 5-cent rolls contain 50 coins.
References
Writer Bio
Hal Bartle has been writing professionally since 2009. He has been published on various websites. He holds a Bachelor of Arts in political science from Saint Joseph's University and a Juris Doctor from Duquesne University School of Law.