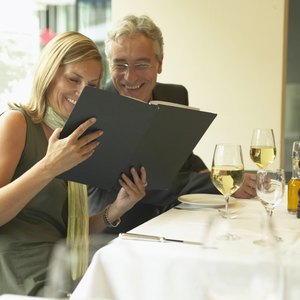 •••
Jochen Sand/Photodisc/Getty Images
The restaurant industry is massive, and its growth shows no signs of slowing down. The National Restaurant Association estimates that there were roughly 970,000 restaurant locations in operation in 2012, and the industry's rate of job growth continues to outpace that of the national economy. For a new restaurant to get noticed, it will take marketing efforts that are strategically focused, as several different objectives must be addressed for any restaurant to be successful.
Fill the Seats
Getting the restaurant's name out there and filling the seats should be the first goal of your marketing strategy. For your campaigns to be as effective as possible, identify your target market first -- the consumers most likely to frequent your eatery -- and tailor your marketing messages and placements accordingly. If your restaurant has more than one area, such as a banquet hall, dining room and bar, make sure they are all pulling their weight. If customers are coming into your bar for cocktails but are not staying to eat dinner, for example, you may have to change some of your marketing strategies.
Build Customer Loyalty
It is much less expensive and time-consuming to retain existing customers than it is to gain new ones, so take the time to make each dining experience a good one. This includes providing good customer service, a clean and comfortable eating environment and high-quality food. Let your customers know you value their business by implementing customer loyalty programs, such as birthday clubs, responding to all customer complaints in a timely manner and periodically surveying your customers to find out where you may be falling short.
Increase the Frequency of Customer Visits
Once you have created loyal customers that come back to your establishment, you should gear your marketing efforts toward increasing the frequency of their visits. In a typical restaurant, repeat customers will account for roughly 33 percent of your sales, so it is well worth putting some marketing dollars into getting customers to come back. Offer bounce-back coupons for discounts on future visits, entice customers to come back by implementing seasonal or rotating menu items or offer a buy-one-get-one-half-price campaign when loyal customers bring friends to dine with them. Use your website to collect email addresses, and send periodic emails to your customers to keep them thinking about your restaurant.
Increase Check Size
To increase the average check size at your restaurant, train your servers in the art of upselling and use a properly designed menu. You can employ several strategies, including placing your high-profit dishes in the most strategic places on the menu -- normally the upper-right corner and the bottom of the menu -- and placing inexpensive, simple items next to more complicated, higher-profit items to entice customers to purchase the latter. Once you have implemented your new menu, make sure that any marketing materials or ad campaigns highlight the repositioned dishes.
References
Resources
Writer Bio
After attending Fairfield University, Hannah Wickford spent more than 15 years in market research and marketing in the consumer packaged goods industry. In 2003 she decided to shift careers and now maintains three successful food-related blogs and writes online articles, website copy and newsletters for multiple clients.