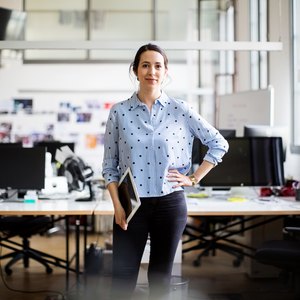 •••
Luis Alvarez/DigitalVision/GettyImages
Entrepreneurship can be a challenging but rewarding career choice. Whether you're a freelancer working independently, contracting gigs or an entrepreneur running a business, there are many entrepreneur resources that can help. And since a number of them come at little to no cost, it's important to take a look around and see what support you can get from these business resources before you decide to pay.
Counseling and Advice
Whether it's figuring out how to market your business on social media or deciding when to bring on your first employee, many successful entrepreneurs have found that getting advice from others can be a huge help. There are plenty of people out there who can give you help and are even interested in mentoring. There are various resources for entrepreneurial small business owners that you might find useful.
​SCORE​: The Service Corps of Retired Executives has a membership of retired and current business executives willing to offer mentorship to entrepreneurs. To find a mentor, you simply input your needs, request a mentor and schedule a session.
​Small Business Administration​: Among the SBA's many helpful resources is the Mentor-Protégé Program. This program doesn't track a mentor down for you. You'll need to have one in mind before you apply, but the SBA can support the relationship with financial assistance, guidance and administrative help.
​Small Business Development Centers​: Hosted by colleges and private organizations, SBDCs offer in-person one-on-one counseling to entrepreneurs. You'll simply need to find an SBDC near you and call to schedule an appointment.
​Incubators​: If your business is considered a startup, you might qualify to participate in an incubator. These programs provide networking opportunities and mentorship for a dedicated period. Incubator programs are located across the country, so you'll want to look for one near you.
​United States Patent and Trademark Office​: Looking for information on patenting or trademarking your business or its products and services? The website for the Patent and Trademark Office is stocked with useful articles and resources to help.
Financial Assistance for Startups
It can take time to build a successful business. And while you're working toward success, you probably could use some support to get through those early months. There are a variety of financial resources to consider.
​Small Business Innovation Research Program​: If your work involves research and development, the SBIR awards grants to businesses that are innovating in fields like science and technology. It's a competitive program, but worth looking into if you think you might qualify.
​Rural Innovation Stronger Economy Grants​: Businesses located in qualifying areas can qualify for a RISE grant, which is designed to boost employment and industry in rural areas.
​Crowdfunding​: There are numerous crowdfunding platforms that can help entrepreneurs, including well-known ones like Kickstarter and IndieGogo, as well as those geared toward investors like AngelList and StartEngine. It's a great way to get venture capital without having to approach investors directly.
Conferences and Seminars
Seminars and conferences can be great resources for entrepreneurs at all levels. You'll not only continue to learn, but you'll also have an opportunity to meet other entrepreneurs. It's important to look at conferences and seminars specific to your industry.
​SXSW​: Short for South by Southwest®, this well-known conference is held in Austin, Texas each year. The conference is designed to "celebrate the convergence of tech, film, music, education and culture."
​Startup Grind:​ Held in Silicon Valley each year, Startup Grind brings startup entrepreneurs together to share tips, motivate, inspire and network.
​Young Entrepreneur Convention:​ If you're in your late teens or early ​20s​, the Young Entrepreneur Convention could be just what you're looking for. It recruits successful founders to help inspire and motivate attendees.
Local and In-Person Networking
As useful as the internet is for connecting people, the truth is, there's value in those in-person connections. Not only do you get the social interaction you crave, but you're also engaging in community-building when you meet other entrepreneurs in your area. There are various ways to make those connections.
​Chamber of Commerce​: No matter where you live, there's likely a nearby Chamber of Commerce designed to promote local businesses. Chances are, your Chamber has meetings and networking opportunities that are ideal for making the connections you need.
​Business Network International​: BNI is a networking organization with chapters across the globe. It can be pricey, so it's important to research your local chapter before joining. You'll want to make sure the chapter is active so that you can get the most out of your membership.
​American Marketing Association​: Another organization that can connect you with other entrepreneurs is the AMA. This association has chapters across the country, and each has its own seminars and networking events. Look up your local chapter before joining.
​Coworking spaces​: Coworking spaces don't just offer a desk and meeting room. Many also have networking events. Even outside of those events, though, you can make local connections just by virtue of working side by side with other professionals.
Accounting, Bookkeeping and Taxes
Freelancers quickly learn that tax time is a little more complicated when they aren't on someone's payroll. It's important to line up support when it comes to managing your business finances. While there are plenty of software solutions that can help, there are also other resources that are available.
​IRS Small Business and Self-Employed Tax Center​: The IRS has created a central library to help you find the information and forms you need to file taxes as a business owner.
​Local SBA offices​: In addition to helping with mentorship, your local SBA office can provide in-person financial counseling.
Minority and Women Entrepreneurs
To ensure they're serving the demographics of the country, some organizations and agencies offer assistance specific to underserved members of the entrepreneur population. If you or a co-founder of your business are among a minority or a woman, there are some additional opportunities to keep in mind.
​Minority Business Development Agency​: This government agency was developed specifically to help minority-owned businesses grow and thrive.
​The SBA 8(a) Business Development program​: This program gives you an edge in competing for federal contracts and other opportunities.
​Women-Owned Small Business Federal Contracting program​: This program can help when it comes to competing for federal grants and other opportunities.
Templates and Document Creation
An important part of running a business is paperwork. There's no shortage of templates out there that you can customize to meet your own needs. There are resources available if you're trying to figure out how to make a business plan, draft professional contracts and more.
​SBA business plan creator​: For writing a business plan, the Write Your Business Plan guide walks you through each phase of creating a business plan.
​Hubspot​: From business plans to company newsletters and executive summaries, Hubspot has a full selection of templates to help you.
​FindLaw Small Business Center​: Although it's no substitute for professional legal advice, FindLaw's Small Business Center has documents and tips to help you as you start your business.
References
Writer Bio
Stephanie Faris has written about finance for entrepreneurs and marketing firms since 2013. She spent nearly a year as a ghostwriter for a credit card processing service and has ghostwritten about finance for numerous marketing firms and entrepreneurs. Her work has appeared on The Motley Fool, MoneyGeek, Ecommerce Insiders, GoBankingRates, and ThriveBy30.