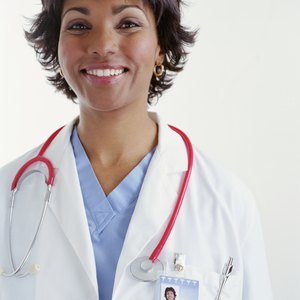 •••
Ryan McVay/Lifesize/Getty Images
For some doctors, becoming a resident has them stuck between a rock and a hard place. Working at a hospital under the supervision of a more experienced doctor, they're carrying a boatload of student loan debt but don't have the income an established physician can hope for. Saving money on taxes can make the burden a little lighter.
Employee Expenses
When you set up your own practice, almost all your business expenses are a write-off. As a resident, you're a hospital employee, however, so you don't get as good a tax deal. You can write off work expenses -- equipment, license fees, medical association dues, medical journal subscriptions -- but these are considered an itemized deduction, not a business write-off. To figure the deduction you subtract 2 percent of your adjusted gross income from the total work expenses. What remains is deductible.
Charitable Medicine
Donations of time and service, even when it's highly skilled service won through medical training, are not deductible. You can, however, write off any related costs as an itemized deduction. Travel costs are deductible, whether you drive 30 miles to a free clinic or fly to Africa to help malaria victims. Money you spend for bandages, drugs or anything else you buy for charity patients is also a write-off.
Pre-Tax Steps
The more things you can pay for with pre-tax income the better. If the hospital offers a pre-tax health insurance plan, that not only helps with medical bills, but it also keeps some of your income away from the IRS. A 401(k) plan gives you the option to save for retirement and cut your taxable income too. Putting money in a health-savings account for medical emergencies also gives you a tax break. You may not be able to put a lot into pre-tax projects, but every little bit can count.
Student Loans
There are multiple programs and rules that allow you to postpone payments on student loans until you complete your residency. If you don't meet the qualifications, you have to pay, but at least the interest is deductible. Even if you don't itemize taxes, you can write off the interest, provided you meet the income qualifications, which are adjusted annually. You can write off as much as $2,500 in interest payments, deducting it on the front of your Form 1040.
References
Writer Bio
A Durham, NC resident, Fraser has written about law, starting a business, balancing your budget and fighting evictions, among other legal and financial topics.