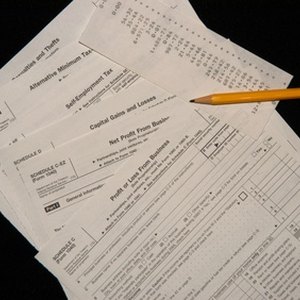 •••
tax time image by Gale Distler from <a href='http://www.fotolia.com'>Fotolia.com</a>
Making a mistake on your tax filing, even a small one, can delay the acceptance of your tax return by the IRS and result in a late fee and penalties. This means you'll need to make sure the income information you submit matches what employers, clients and vendors have submitted to the IRS as the amount(s) they've paid you on W-2 and 1099 forms.
You'll need to fill out a W-9 in order to do business with certain clients and contractors so they can issue you a 1099 and submit a copy to the IRS. While you should always keep copies of any tax documents you submit, sometimes they get lost or misplaced, and if you need to check it later for some reason and don't have a copy, it's a good idea to know how to request one so you can get the information sooner than later.
W-9 vs. W-4
When you go to work for an employer, you'll fill out a Form W-4. This gives the employer information to use in determining how much money needs to be deducted from your paycheck each period. At the end of the year, you'll receive a Form W-2 that shows how much you earned and what you paid in taxes.
If you are a freelancer, contractor or other self-employed worker who works with clients, you might need to fill out a Form W-9 so they can report what they've paid you to the IRS. This is usually the case if they will pay you more than ​$600​ during the year. A W-9 takes just minutes to fill out and you can download a copy from the IRS, or any other site that offers the form (you can do an online search for "Free W-9").
Companies that request a W-9 will send you and the IRS a 1099 soon following the end of the tax year. This will show what they paid you. No taxes are taken out of these types of payments, so you're responsible for submitting what you owe on these amounts.
Contact Your Client
If you are looking for a copy of your most current W-9, contact the issuer first. During the course of the year, you might have moved and the company might have sent it to the wrong address. If you set up a new business during the year and now do business using an Employer Identification Number instead of your Social Security number, you might want to see which number you gave each of your clients.
If you've received a 1099 from anyone, then you submitted a W-9 to them, and they should be able to email, fax or mail a copy to you. You'll need to provide the company with your name or company name, Social Security number or EIN, vendor number, street address and other information they request.
Contact the IRS
Because a W-9 is a form you submit to a client and not to the IRS, you can't get a copy of your W-9 from the IRS. However, if you ever need a copy of a previous tax return, including the W-2 or 1099 that was attached to it, you can go to the IRS website and download Form 4506, which is a request for a previous tax return.
The copy you receive should include a copy of any W-2 or 1099s you submitted. While you're required to include a W-2 with your tax return, you don't need to attach a 1099.
References
Tips
If you have moved out of state and for some reason a new employer should need to see a W-9, call your previous employer and give them a fax or email address for your new employer. This allows the previous employer to send the information and the new employer can double check to make sure the identification numbers such as your social security, match up. Companies that hire you, whether on a contract or salary basis, are required to get a W-9 from you. This provides them with all the information they need to file their own taxes. If you do not file a W-9 with a company for whom you work in some form or another, you may find that they withhold 28 percent of your income for federal taxes.
Writer Bio
Steve Milano has written more than 1,000 pieces of personal finance and frugal living articles for dozens of websites, including Motley Fool, Zacks, Bankrate, Quickbooks, SmartyCents, Knew Money, Don't Waste Your Money and Credit Card Ideas, as well as his own websites.