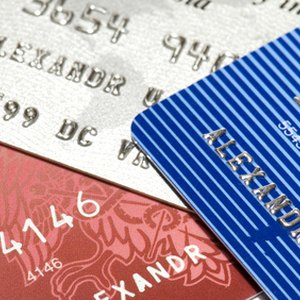 •••
three credit cards image by Aleksandr Ugorenkov from Fotolia.com
The process you go through to report lost Visa cards is pretty much the same, regardless of the issuer. The difference will be the phone number or website you use to make the report. Most Visa cards carry some type of fraud protection, but you'll want to check to see if you're on the hook for any unauthorized charges that someone might have made.
Aren't All Visas the Same?
Visa doesn't issue credit or debit cards. They are a card network/service provider that allows banks and other lenders to issue Visa cards and process transactions. For example, Bank of America issues Visa debit cards to its checking and savings account holders, while companies like Chase, Citi and Capital One offer Visa credit cards.
Many lenders also offer Mastercard cards, which work like Visa cards. Discover and American Express offer their own cards. When you call about your Visa or Mastercard account, you'll talk to the bank that issues the card. When you call Discover or American Express, you talk directly to those two companies.
If you are reporting a lost Visa gift card, call Visa at ​800-847-2911​. They are the issuer and will cancel your card. When you buy or receive gift cards, register them so you can more easily cancel them and avoid losing your balance. Register the card using the information on the back of the card.
Reporting Via The Card Issuer
Your Visa card will have a toll-free number on the back you can call for customer service provided by the card issuer. Make sure you write that number down, along with your account number, expiration date, PIN and security number (the three numbers on the back of the card).
To report a lost Visa debit card or credit card via your card issuer, if you don't have the number handy and can't get to a paper copy of your monthly bill (known as a monthly statement), you can log in to your online account.
If you don't have a statement, but you know the name of the bank that issues your Visa, search online for the bank's customer service phone number and call immediately. Follow the prompts and select the option, "To report your card lost or stolen, press …" The customer service rep who answers will ask you if you have your account information.
If you don't, you'll need to give your name, Social Security number, the street address associated with the account (where your bills are sent if you're receiving paper statements) and your phone number. You might be asked to give a security password you set up, such as your mother's maiden name or favorite pet.
Reporting Via Visa
You can also contact Visa directly. Visit their customer support page and follow the directions. iCustomerServiceNumber.com offers several numbers you can call to call Visa directly about your credit and debit cards, including numbers you can use when you are outside of the country and don't know your card issuer. Both of these pages offer links to online chat options, as well.
Reporting the Loss Online
Whenever you open a bank account or get a credit or debit card, you should immediately register the account online. This will allow you to log in 24/7 and check your balances, recent transactions, statements and balance transfer offers and find other information.
Just go to the website URL on the back of your card (or do an online search for the card issuer's website) and follow the prompts to open your account. You'll need information like your name, Social Security number, street address, phone number and account information. If you have downloaded your bank's digital app, you can freeze your account, report the card lost and get a new one using the app.
To report your card lost or stolen using your phone or computer, log in to your account and look for the link for reporting a lost or stolen credit card. Follow the prompts. If possible, follow up with a phone call and talk to a live agent to make sure you canceled your card directly.
What Happens Next?
Once you've reported your card stolen, the account will be frozen so no one (not even you) can make charges. The card issuer will verify the latest transactions on the card – if you see any you didn't make, let the card issuer know. You probably won't have to pay for these charges because most accounts come with some sort of fraud protection.
You will be mailed a new credit card. Ask if you can pay a fee for overnight service if you need the card immediately, otherwise, you might have to wait more than a week to get your card. Once you get the new card, follow the directions that come with the new card to activate it.
References
Tips
If traveling abroad, note the toll-free number for the country you are traveling to. If your card is lost or stolen there, contact that number to make a report and to receive emergency services.
Writer Bio
Steve Milano has written more than 1,000 pieces of personal finance and frugal living articles for dozens of websites, including Motley Fool, Zacks, Bankrate, Quickbooks, SmartyCents, Knew Money, Don't Waste Your Money and Credit Card Ideas, as well as his own websites.