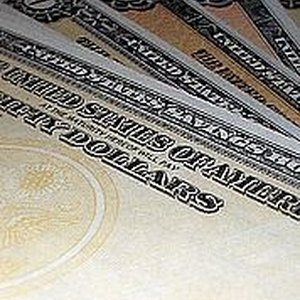 •••
http://www.flickr.com/photos/allyrose18/184406974/
How to Replace a Lost Savings Bond. If you've lost one of your savings bonds, it's not gone forever. You can get a replacement relatively easily via the Internet. This article shows you how.
Go online to savingsbonds.gov and download Form 1048: "Claim for Lost, Stolen or Destroyed U.S. Savings Bonds." The form itself can be completed directly online and then printed off, but you cannot save the data you type into the form.
Fill in as much information as you can on the form. Include the bond holder's (presumably you) name, address and phone number, as well as your Social Security number, approximate issue date or date range and the serial number if known. The more information you include, the sooner you'll likely get your bond.
You'll need to get the form certified at a bank. If the bond is not yours and the bond owner is deceased, then you'll also need to furnish a certified copy of the death certificate.
Mail the form to the Treasury Department, Bureau of Public Debt. There are two different addresses that are used for different types of bonds. If you are mailing a form for Series E, EE and I bonds, you will send it to P.O. Box 7012, Parkersburg, WV 26106. If you are mailing the form for Series H and HH bonds, you will send them to P.O. Box 2186, Parkersburg, WV 26106.
Writer Bio
I am a Certified Financial Planner with about 13 years of experience in the financial industry. I have worked as a stockbroker, income tax preparer, financial planner and loan officer. I am also involved in a venture capital enterprise in the oil and gas sector.