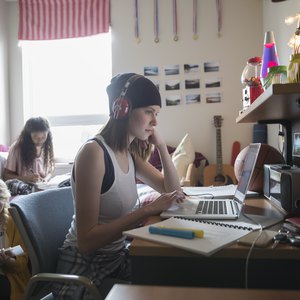 •••
Hero Images/Hero Images/GettyImages
The College Board states in its Trends in Student Aid 2017 that the average undergraduate student receives $14,400 a year in financial aid. The organization also points out that the yearly cost to attend a four-year, in-state college is $25,290 with an out-of-state school coming in at $40,940. That leaves students with a deficit of about $11,000 to $25,000 per year. Since one of the biggest costs related to college costs is housing, it's a good idea for teens and young adults to locate rental assistance programs and submit an application.
Research All Available Federal Grants
Students might be eligible for a number of federal grants that they can use toward housing. For example, anyone who's been on active duty in the U.S. Armed Forces for at least 90 days since Sept. 10, 2001, can apply for the Post-9/11 GI Bill. Recipients are eligible for a monthly housing allowance, which is determined by the ZIP code of the school you're planning to attend. Additionally, students who are pursuing any type of teaching degree may qualify for the Teacher Education Assistance for College and Higher Education (TEACH) Grant.
Check Your State for Grants
If you are attending a college or university within your state, you may be eligible for a state grant. In New Jersey, there's the Educational Opportunity Fund, which is available to those who have an economic or educational disadvantage. The money can be used toward housing, as well as books, a meal plan and any other college fees. California residents will want to apply for the Cal Grant B Program, which offers a living allowance that can be used at any state university, community college or qualifying career or technical school.
Contact Catholic Charities
You don't have to be Catholic to take advantage of Catholic Charities' rental assistance programs. Certain branches of the organization offer one-time help to anyone, including students, who are at risk of becoming homeless. The organization will pay a security deposit and your first month's rent, as well any arrears you might have accumulated over the course of the last three months.
Section 8 or 42 Housing Assistance
Depending on income and circumstances, college students could be eligible for either Section 8 or Section 42 housing assistance. These are government-sponsored programs, so you'll need to apply at the Public Housing Agency that is closest to the educational institution you plan to attend. Generally, Section 42 requires individuals to have an income between 30 and 60 percent of the county's average median income. Section 8 income requirements fall in the 30 to 50 percent range.
Make a Net Wish
Struggling college students are welcome to make a wish on Net Wish. Requests can include assistance with both rent or security deposits. Wishes are only granted in amounts up to $200, but students can utilize this resource to help ease their financial burden.
Apply to the Gradient Gives Back Foundation
Families who already have a home or are leasing an apartment but are finding it hard to keep up with the payments can seek assistance from the Gradient Gives Back Foundation. The organization makes mortgage and lease payments on behalf of its recipients. Even though the foundation is based in Minnesota, you can apply while attending any college in the United States.
Become an RA
Students who plan on living in their college dorms have the option of applying to become a resident assistant, commonly known as an RA. In exchange for promoting a community atmosphere, assisting fellow students and monitoring the dorms, the resident assistants are rewarded with a housing stipend. Each college and university has its own GPA and credit completion requirements for RA applicants.
References
Writer Bio
Alicia Bodine is a New Jersey-based writer specializing in finance. With more than 13 years of experience, her work has appeared in LendingTree, GoBankingRates, Sapling, Zacks and budgeting.thenest.com.