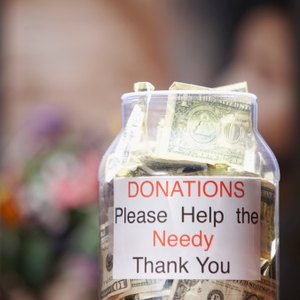 •••
Brand X Pictures/Brand X Pictures/Getty Images
Catholic Charities USA is one of the largest networks of charities that work to reduce poverty and provide services for people in need, regardless of religious, economic, or social background. In addition to rental assistance, services offered include feeding the poor, educational assistance, job training, disaster relief, and advocacy for those in need. In fact, some charities help pay rent. Catholic Charities has a network of agencies, institutions, and organizations that serve the needs of communities nationwide.
Rental assistance from Catholic Charities can come in a variety of forms, ranging from move-in cost reimbursements to subsidizing late rent payments.
Evaluating Types of Charitable Housing Assistance
Catholic charities may provide assistance of renters in a variety of different ways. For example, types of rental assistance could include assistance with move-in costs and utilities. Move-in costs include any costs associated with moving into a new residence such as the security deposit and first month's rent. Utilities include electricity, gas, and heating services. Rental assistance could also be provided to tackle more significant threats, such as eviction. For example, it could also involve subsidizing late rent payments that are jeopardizing a renter's ability to remain in their home.
Exploring Catholic Charities Housing Criteria
To be eligible for rental assistance from Catholic Charities, a tenant must have recently experienced a financial setback resulting in the inability to pay for housing needs, be one month or more behind in their rent or mortgage or have a vacate or eviction notice. Tenants may receive one month's rental assistance or short term rental assistance depending on eligibility and available funding. For assistance with utilities, tenants must have a utility disconnect notice. You will be required to show proof of income, residence, and a valid ID. Eligibility criteria can vary based on your location.
Obtaining Emergency Assistance
In addition to rental assistance, Catholic Charities, along with other local agencies and organizations, provides counseling and case management services to eligible individuals. These services focus on stability and self-sufficiency. The aim is to help people with financial hardships, like those needing Catholic charities rental assistance, to get back on their feet. Contact your local Catholic Charities organization to see what help is available to you.
Discovering Additional Resources
While Catholic Charities is a well-known organization that offers rental assistance, there is other help available. Government programs such as HUD, as well as many non-profit programs, offer rental assistance to single mothers, the elderly, and low income residents. Catholic Charities may refer you to other programs for additional assistance.
References
Writer Bio
Nico Riley has been a professional writer since 2006 with work appearing on various websites. Riley holds an associate degree in criminal justice from Harold Washington College and a Bachelor of Arts in sociology from the University of Illinois at Chicago. She enjoys writing on topics about society, culture, health, self-help and entertainment.