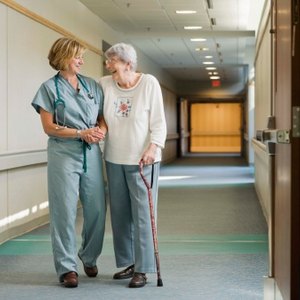 •••
Jupiterimages/Comstock/Getty Images
Therefore, it makes sense for you to renew your CNA license in CT. While the median salary for a certified nursing assistant stands at ​$36,311​​,​ which is on the low end of the salary spectrum, you are assured of a job as you study for better academic qualifications in the same sector or a different one altogether.
How Long Is a CNA License Valid?
In Connecticut, a CNA license is good for ​two years​. About two weeks before it expires, you need to renew it to continue working as a certified nursing assistant. Without it, you cannot continue to work legally in the state.
The Connecticut Department of Health is in charge of CNA certification renewal. The good news is that there is no fee required for that process if you are active.
How to Renew a CNA License in CT
Below are the steps you should take to renew your CNA license in Connecticut.
First, you must ascertain that you meet the current requirements for renewal of the CNA license. The most essential is documentation of at least one ​eight-hour​ shift as a compensated certified nursing assistant. Alternatively, you must show you have been directly providing personal nursing care within the ​two years​ prior to the expiration of your license. Your employer must complete and submit the employment verification form to that effect and mail it to the address provided at the bottom.
Suppose you have not provided nursing care in the two years your license was active. And neither have you worked for at least one eight-hour shift as a compensated CNA. In that case, you must retake the Connecticut Nurse's Aide exam, which includes both written and practical tests. And you must pass the examinations. You can apply for the CNA certification test in CT via Prometric, which administers the CNA exams and manages the Certified Nurse Aide (CNA) Registry in CT. The company will answer all your queries concerning the examinations and direct you to the resources to use. You can reach out to them via their website. And expect to pay.
Usually, the employment verification form acts as the CNA renewal form in CT. However, if you cannot provide it but pass your exams, your license will be renewed.
If you were previously certified as a CNA in a different state, you can have your license transferred by contacting the Department of Health and inquiring about licensing via reciprocity. It is usually given to those in good standing. In such a case, you may be expected to present a license verification form from your state's registry (where you obtained your license before) and a letter or certificate copy.
You then will need to pay ​$55​ and mail all the relevant documents to: Prometric 7941 Corporate Drive, Nottingham, MD 21236 or fax them to ​800-813-6670​. For any phone-related inquiries, call the number: ​866-499-7485​.
CNA Renewal Exceptions
When you become registered on the nurse's aide registry, your name will never be removed. However, if you have improperly administered care and there are negative findings against you, your mistakes will be noted against your certificate in the registry. And your license may never be renewed.
That said, you could petition to have the flags removed if your negative behavior was a singular occurrence and you don't have a history of abuse or neglect. And if you are not considered an active CNA, the registry will mark your license as lapsed.
It is also worth noting that trained LPNs or RNs with qualifications from accredited schools can get their CNA licenses in CT without undertaking examinations or retraining.
References
Resources
Writer Bio
I hold a BS in Computer Science and have been a freelance writer since 2011. When I am not writing, I enjoy reading, watching cooking and lifestyle shows, and fantasizing about world travels.