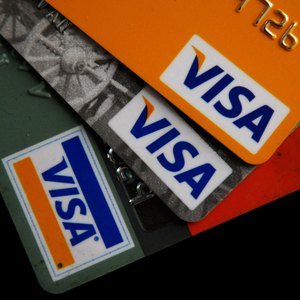 •••
Justin Sullivan/Getty Images News/Getty Images
An alternative to writing checks, a Visa debit card allows you the convenience of paying with a card, deducting the amount of the transaction from your checking or savings account. Visa does not offer debit cards to consumers directly, but partners with third-party banks and credit unions. These financial institutions offer the debit cards co-branded with the Visa logo for customers to use wherever Visa is accepted. Registering your card allows you to take advantage of that card's features. The process for registering varies depending on the issuer.
Activate the Card Features
Registering and using a Visa debit card to make purchases gives you additional security and special features. According to the Visa website, the company monitors all customer accounts 24 hours a day. All Visa debit cards come with Visa Zero Liability, excusing you for any responsibility for unauthorized purchases. Many Visa debit card issuers also sponsor rewards programs, giving you rewards for using the debit card.
Find Your Provider
Visa provides a list on its website of all debit and check card providers, so you can find your card's issuer and instructions for registering the card. Along with debit cards that deduct money from your checking account, some issuers also offer prepaid debit cards that you load and reload. Once you've located your issuer, visit its website and look for the link to register or activate your card. For most cards, you can also call the customer service number on the back of your card to register.
Information You'll Need
The information you need to provide to register your card varies depending on the issuer, but typically you need the card number, expiration date and your name. Some issuers require you to activate the card first and then register it, while others consider activating and registering as the same thing. For example, the 1-2-3 Rewards Prepaid Debit Card requires calling 1-866-265-8419 or logging into your account to activate the card. You then register the card from your online account. The T-Mobile Prepaid Visa Debit Card, on the other hand, simply requires the card number and expiration date to register it.
Choose a Personal Identification Number
Not every issuer requires it, but choosing a personal identification number for your Visa debit card allows you to get cash back at stores and ATMs. According to Axis bank, creating a PIN for your card provides another layer of security because you have to know the PIN to make a debit transaction.
Verified by Visa
As another layer of protection, Visa offers the Verified by Visa program. Registering for Verified by Visa helps protect you from unauthorized online purchases made with your card. Not every issuer participates, but if your card issuer does, you can register via the issuer website. Typically, to register, you provide the card number, expiration date and your email, then create a password. When you make a purchase at participating online stores with your Visa debit card, a verification window opens up asking for the password you created during registration.
References
Writer Bio
Lindsey Thompson began her writing career in 2001. Her work has been published in the Cincinnati Art Museum's "Member Magazine" and "The Ohio Journalist." You'll also find her work on websites like Airbnb, Chron.com, and USAToday.com. Thompson holds a Bachelor of Science in journalism from the Scripps School of Journalism at Ohio University.