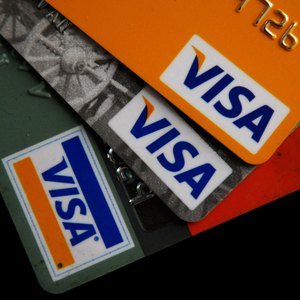 •••
Justin Sullivan/Getty Images News/Getty Images
Depending on what you mean by "register" and who your bank or credit union is, you can activate your Visa debit card in a variety of ways or set up an online account for your card. The process for activating a card or setting up an online account is pretty much the same for many cards, regardless of the issuer.
Activating vs. Registering
You must activate your card, but you don't need to register for and set up an online account. Activating a card is the process of letting your bank or credit union know that you have received the card and you want to be able to start using it.
Registering for an online account gives you access to more services associated with the card and might let you perform more transactions. You can register for an online account on your computer or download a mobile app and set up that functionality.
Activating a Visa Debit Card
You have four main ways to activate any debit card: by phone, at an ATM, by making a purchase or by setting up an online account and activating the card. When you receive your card in the mail, you'll be given a phone number to call to activate your card. This phone number is often placed on your card with a sticker you peel off when you're done.
Call the phone number, follow the prompts and your card will be activated. In some cases, simply calling from the phone number you gave your card issuer when you signed up with the phone is all you need to do. In other cases, you'll need to provide your card number and either your Social Security number or zip code.
You will often be able to activate your card by performing any transaction at an ATM, including just checking your balance. Enter the card into the ATM and follow the prompts. You might need to enter your PIN, which you'll receive by mail, separately from your card (to provide added protection in case either letter is stolen).
You might also activate your card by making a purchase. Once you tap, insert or swipe your card into the merchant checkout device or website and you enter your PIN, your card is registered.
Registering Via Your Computer
If you register your card for an online account, you'll be able to log in and check your balance, see recent transactions, link your card to another account (to make transfers easier) and perform other transactions.
Go to the card issuer's website (usually found on the back of the card) and follow the directions for setting up your account. You'll need information such as your card number, security card on the back of the card, zip code and Social Security number.
You'll pick a username and password, then be prompted to log in once your information is verified. You should have instant access to your new account and will just need to log back in.
Registering Via Mobile App
You can set up mobile access to your debit card by downloading your card issuer's banking app. You should be able to find it at the Apple App Store and Google Play Store. Download the app to your phone, then follow the instructions for setting up your account.
Using a mobile phone, you'll be able to do the same things you can do in an online account you register on your computer, and you'll be able to take pictures of paper checks and deposit them into your account.
References
Writer Bio
Steve Milano has written more than 1,000 pieces of personal finance and frugal living articles for dozens of websites, including Motley Fool, Zacks, Bankrate, Quickbooks, SmartyCents, Knew Money, Don't Waste Your Money and Credit Card Ideas, as well as his own websites.