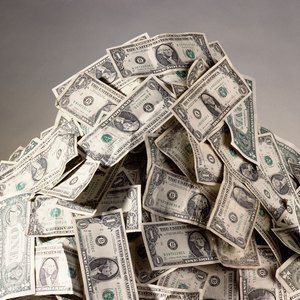 •••
Jupiterimages/Photos.com/Getty Images
You can potentially save a lot of money by refinancing your existing mortgage loan owned or guaranteed by Fannie Mae or Freddie Mac — the two government-sponsored enterprises that buy mortgage loans — to one with a lower interest rate. For instance, if you owe $200,000 on a 30-year fixed-rate mortgage loan, you'll pay an estimated $1,199 each month in mortgage payments. If the interest rate on that same loan is 3.5 percent, you'll pay a little more than $898 each month. And if your mortgage loan is owned by Freddie Mac or Fannie Mae, you might, with the help of the federal government, be able to refinance even if you owe more on your mortgage loan than what your home is worth.
Traditional Refinance
Call several mortgage lenders to shop around for the best possible interest rates and fees. Remember, refinancing is not free; The Federal Reserve Board estimates that you'll have to pay from 3 percent to 6 percent of your outstanding loan balance in refinance fees. Shopping around, then, is key. You don't have to refinance with your current mortgage company. You can work with any mortgage lender licensed to do business in your state.
Make copies of the financial documents requested by your lender. These documents will vary, but most lenders will want to see copies of your last two paycheck stubs, last two months worth of bank account statements and last two years worth of income-tax returns. Send these to the lender with which you've chosen to refinance. Your lender will study these documents to make sure that you can afford your new mortgage payments after your refinance is complete.
Give your lender permission, by giving your verbal OK over the telephone, to check your credit and have your home appraised. Lenders reserve their lowest interest rates for those borrowers who have credit scores of 740 or higher on the FICO credit-scoring scale. If your credit score is too low — because you have too much credit-card debt or you have missed payments in your past — your interest rate won't be low enough to make refinancing financially worthwhile. And if your home's current appraised value comes in too low, you won't have enough equity to qualify for a refinance. Most lenders require you to have at least 20-percent equity to qualify for a traditional refinance.
Sign the closing documents and pay any closing costs once your lender approves your refinance request. You can elect to pay your refinance costs in one lump sum, or you can roll these costs into your monthly mortgage payment.
HARP Refinance
Call your current mortgage lender or another lender if you need to refinance through the federal government's Home Affordable Refinance Program, better known as HARP. This program allows homeowners to refinance their mortgage loans even if they owe more on their mortgage loans than what their homes are currently worth. The catch? Homeowners must have a mortgage loan owned or guaranteed by Freddie Mac or Fannie Mae.
Fulfill the requirements of a HARP refinance to make sure you can qualify. Not only must homeowners be paying off a mortgage loan owned or guaranteed by Freddie Mac or Fannie Mae, they must also be current on their mortgage loan and not have any missed payments during the last 12 months. You also must have less than 20 percent equity in your home to qualify for this program.
Copy your important financial documents -- your last two mortgage paycheck stubs, last two months worth of savings or checking account statements, last two years income-tax returns -- and send them to the lender with which you are applying for a refinance. Grant your lender, too, your permission to check your credit and appraise your home.
Sign the closing papers that your lender sends to you to make your refinance official. Remember, too, that you'll have to pay fees to complete your refinance. You can either pay these fees in a lump sum or roll them into your monthly loan payments.
References
Writer Bio
Don Rafner has been writing professionally since 1992, with work published in "The Washington Post," "Chicago Tribune," "Phoenix Magazine" and several trade magazines. He is also the managing editor of "Midwest Real Estate News." He specializes in writing about mortgage lending, personal finance, business and real-estate topics. He holds a Bachelor of Arts in journalism from the University of Illinois.