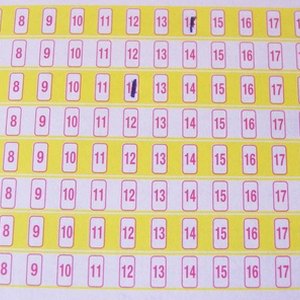 Mega Millions is a multi-state lottery game. Forty-one states participate in the Mega Millions lottery game. Players chose five numbers from 1 to 56 and a single number (the mega ball number) from 1 to 46. Each ticket costs a dollar. All plays are governed by the state lottery regulations in which the ticket was purchased. Some states allow players to pay an additional dollar per ticket to multiply winnings by the Megaplier, a random number drawn along with lottery numbers.
Visit MegaMillions.com and Click the "Where to Play" tab or click the link in resources below.
Click on the state where you purchased the lottery ticket. The resulting information will tell you how tickets from that state can be redeemed. Note the number or website for the state lottery headquarters or commission.
Contact the relevant state lottery headquarters. Request information about mailing your ticket in to receive the prize. This option is advisable for small amounts in the $5 to $10 range, which can be won by matching three numbers. If your ticket matches four or more numbers on the ticket, consider traveling to the state in person to redeem. Most prizes under $500 can be redeemed at the convenience store where the ticket was sold. Other amounts require you to travel to the state lottery headquarters to redeem your prize.
References
Writer Bio
Kristin Jennifer began writing professionally in 2010, with her work appearing on eHow. She has five years of experience working as an immigration specialist in Houston and New York City. She holds a Bachelor of Arts in political science and a minor in economics from Barnard College.