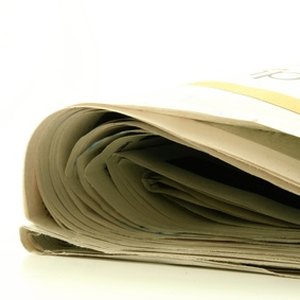 •••
newspaper image by Christopher Hall from Fotolia.com
Don't overlook the saving power of coupons. If you remember to use them on a regular basis, you might be surprised with the results. Small amounts saved with every coupon can add up to hundreds of dollars every month in savings. Coupons come in several different types, so you don't necessarily need to clip away at your Sunday newspaper to benefit and save. Redeem your coupons easily and start saving today.
Paper
Cut out your coupon using scissors. Paper coupons normally appear on a page with other coupons, and you may want to redeem the remaining ones later.
Read your coupon for rules or exclusions. Your coupon may be valid only at certain stores, for example.
Shop for the exact item your coupon discounts. Some coupons discount an entire line of products from one brand; others sell only a specific model. If you try to purchase anything other than what the coupon states is valid, you will not receive the discount.
Take your coupon and item to the cashier when you are ready to check out. The cashier will scan the coupon and the discount will be reflected on your receipt.
Online
Follow the instructions required to receive your offer. Some paper coupons include a coupon code that gives you the option of redeeming your coupon in the store or online. The only difference between paper coupons and online coupons is that you enter a code online during the checkout process instead of presenting a paper coupon to a cashier.
Shop online for the exact item your coupon code discounts. Click on it and add it to your shopping cart.
Check out when you are ready and enter all required information, such as name, shipping address and payment method.
Type in your coupon code when you are prompted. You will see a section asking if you have any gift certificate codes or online coupon codes. Click "Yes" and type in the code. Do not check out and finish with the transaction until you have entered the coupon code.
Complete the transaction after you see the discount reflected in your total.
Printable Coupon
Go online and select your coupon. Sometimes printable coupons are offered in an e-mail link; others are found by searching the Web.
Turn on your printer and click on the coupon.
Click "Print." You do not need to print in color, but make sure the bar code or coupon code prints clearly. When you redeem the coupon, your cashier will need to scan or type in the information during checkout.
Use it just as you would a normal paper coupon.
Check the expiration date and fine print on your coupon to make sure it is redeemable.