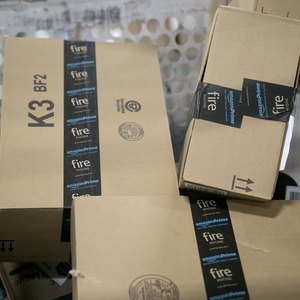 •••
Aaron P. Bernstein/Getty Images News/Getty Images
Amazon.com and Chase Bank have collaborated to offer the Amazon.com Rewards Visa credit card, which allows the user to earn points on all purchases. Every penny spent equals one point, with the user earning three points for every penny spent on any Amazon.com purchases and two points for every penny spent at gas stations, restaurants and drugstores. Redeeming points requires the user to log onto his Amazon.com account to shop for items.
Reward Options
From his Amazon.com account, the user can search for whatever item he wants to purchase with his points. Amazon.com sells everything from clothing to toys to household goods. A user can also use points earned on an Amazon.com Visa Points credit card to get cash back, purchase gift cards and book airline tickets, hotel rooms and car rentals. Some items on Amazon.com do not qualify as points purchases, including some digital products, Kindle downloads, Subscribe and Save items, AmazonFresh products or preorders.
Spending Points
Every 100 points a user has equals $1 to spend on Amazon.com, and he can use as few or as many points as he wants for a purchase. For example, if he has 4,800 points, he has $48 to spend on items and can apply anywhere from $1 to $48 toward the purchase. After adding an item to his shopping cart, the user should choose the "use points" option under payments and apply the number of points he wants to use. If he does not have enough points for a purchase, the user will have to use another form of payment to cover the balance.
References
Writer Bio
Lindsey Thompson began her writing career in 2001. Her work has been published in the Cincinnati Art Museum's "Member Magazine" and "The Ohio Journalist." You'll also find her work on websites like Airbnb, Chron.com, and USAToday.com. Thompson holds a Bachelor of Science in journalism from the Scripps School of Journalism at Ohio University.