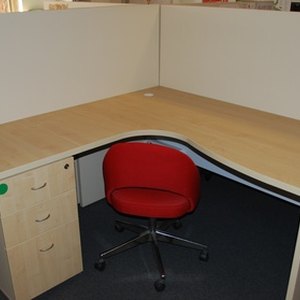 •••
Empty Office Cubical image by TekinT from Fotolia.com
Many offices redecorate and replace office furniture on a regular basis, creating a huge amount of used office furniture that, unfortunately, often finds its way to dumps and junk yards. At the same time, many small nonprofits and emerging businesses go without vital office fixtures in order to cut costs and are unable to access the used furniture before it is discarded. Fortunately, a number of organizations and networks have taken notice of the problem and, in order to reduce waste and help emerging nonprofits and struggling young businesses, accept or coordinate office furniture donations. In the case of cubicle partitions, if you cannot find a new use for them within your office, you should be able to find an appreciative charity or organization to take the pieces.
Re-purposing Cubicle Partitions
Turn your cubicle partitions into table tops. As a cubicle partition is essentially a board of wood, place two workbenches or four stools at opposite corners of the board and create an extra table for the office. The table may not be suitable for heavy or unbalanced loads, but it will have the advantage of being easy to disassemble and store. In a conference room that sometimes needs tables and sometimes is used as an open space, the configuration can be ideal. At the very least, you could create a good surface for coffee breaks and food utensil placement in the lunch room.
Turn your partition into a giant white board. White board surface materials can be bought by dimensions or by the spool. Simply buy a piece in the dimensions of your partition and glue it to the surface of the board with wood glue. Cubicle partitions are usually made of light-weight materials, enabling you to even hang your giant white board and use it for projections or mapping out ideas in conferences.
Turn your partition into a giant office message board. By applying a thin layer of cork board over the petition, you can create a message board for employees to communicate with one another. A good message board policy can even contribute to employee satisfaction and allows employees to resolve important personal matters, such as the search for a used car, the sale of home furniture or search for a baby sitter.
Donating Cubicle Partitions
Research local charities in your area that are accepting office furniture. National charities like Goodwill, United Way and the Muscular Dystrophy Association usually accept office furniture and will help you find a productive second life for your partitions. However, you may want to research more locally relevant charities.
Contact nonprofits in your area that you think may be interested in a donation of cubicle partitions. Most charities will be happy to organize a pickup of your cubicle partitions if they can find a use for them and, more importantly, will appreciate your donation.
Inquire about the possibility of a tax-deductible donation if you are donating to a registered 501(c)(3) organization.
Schedule a pickup date and prepare any relevant tax forms for the donation.
Post a comment to a local message board stating that you would like to donate cubicle partitions. Locally organized networks like Freecycle.org help donors get in touch with individuals and organizations that could use the materials or items they no longer need. If you cannot find a charity to which you would like to make a donation, post a message and see who gets back to you. As with a charity, most people on these networks will be happy to schedule a pickup and will organize all the details for you.
Remember to reduce, reuse, recycle. Organizing your long-term inventory needs for office furniture will keep you from ordering excess pieces and generating furniture waste, making the greatest positive environmental impact. If you can reuse a piece, you will reduce the need for new furniture and also have a substantial impact, especially if the piece is reused locally. Lastly, recycling can reprocess certain materials, but it still generates some waste and consumes a considerable amount of energy in the re-fabrication process. Recycling, in the sense of strict industrial reprocessing, is seldom a good idea for usable manufactured goods.
Know the charities to which you are contributing. A little bit of research can save you paperwork complications during tax season and your office embarrassing public relations missteps.
References
Resources
Writer Bio
Edward Mercer began writing professionally in 2009, contributing to several online publications on topics including travel, technology, finance and food. He received his Bachelor of Arts in literature from Yale University in 2006.