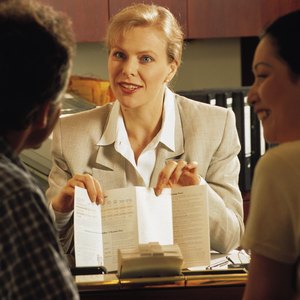 •••
Comstock/Comstock/Getty Images
Keeping your credit report in good shape is essential if you want to apply for credit cards, loans and mortgages. Some credit score apps will try to lure you in with free trials for what eventually will be a paid subscription service. But in fact, everyone is entitled to one free report from each of the three major credit bureaus each year. TransUnion offers additional free reports to people who meet certain criteria.
Get a Free Annual Report
Under the Fair Credit Reporting Act, every U.S. resident is eligible for one free copy of their credit report from each of the three national credit reporting agencies every 12 months. The three agencies are TransUnion, Experian and Equifax.
To get your free report, visit AnnualCreditReport.com and provide the information that's requested. This will include your name, address and Social Security number. The site will also ask you a series of security questions to make sure no one can access your credit report but you. The answers to these questions, such as which credit card company you use, are taken from your credit information. Request your report online, and it should be available immediately.
You can also order your report by calling toll-free 1-877-322-8228. Your report will be mailed to you within 15 days.
Credit Health During the Pandemic
All three reporting bureaus are committed to helping Americans manage their credit health during the COVID-19 health crisis, including TransUnion. Until April 2021, you can order free weekly credit reports online through the AnnualCreditReport.com website.
Which Reports to Order?
If you're doing a specific application for a company and you know it uses TransUnion, it's obviously a priority to order that report. Generally though, it's a good idea to check all three credit reports as the bureaus update their information at different times. You can order all three reports at the same time.
Bear in mind that you will not receive a credit score with your free annual credit reports. However, signing up for a TransUnion Credit Monitoring membership includes unlimited access to your score with alerts whenever a credit check is made. Membership costs $24.95/month as of September 2020.
Extra Reports in Special Circumstances
TransUnion will let you order an extra free report, in addition to your FCRA report, if you meet one or more of certain criteria, which include:
Having been denied credit or insurance in the last 60 days based on information in your TransUnion report.
Being unemployed and planning to look for employment within the next 60 days.
Receiving public welfare assistance.
Suspecting that your TransUnion report is inaccurate due to fraud or identity theft.
Living in a state that offers a free or reduced-price credit report – currently, this applies to residents of CA, CO, CT, GA, ME, MD, MA, MN, MS, MT, NJ, PR, VT and VI.
How to Use Your Credit Reports
Your credit reports provide important information about your credit history. Banks, credit companies and utility companies rely on them when deciding whether to give you credit, and on what terms. Even small errors can cause problems, so it's important you read your report regularly to check for errors and signs of identity theft.
If you spot any errors, you can dispute the inaccuracy via AnnualCreditReport.com, or start an online dispute directly with TransUnion and the company will investigate. Getting your credit report updated is essential since mistakes can damage your ability to get the credit you need.
References
Writer Bio
Jayne Thompson earned an LLB in Law and Business Administration from the University of Birmingham and an LLM in International Law from the University of East London. She practiced in various "big law" firms before launching a career as a commercial writer specializing in finance and tech. Her work has appeared on numerous financial blogs including Wealth Soup and Synchrony. Find her at www.whiterosecopywriting.com.