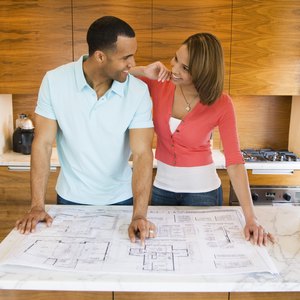 •••
Jupiterimages/Creatas/Getty Images
New construction house plans come in a multitude of types and sizes, with varying features and designs. Knowing what you want in a home can eliminate wasted time and energy when picking a plan. The master bedroom split-floor design is becoming extremely popular, and in fact is quickly becoming a top seller. This feature, simply put, means that the master bedroom is positioned on one side of the home while the secondary bedrooms are placed on the other, giving enough space in between for privacy.
Privacy
Having your master bedroom away from secondary bedrooms within the home means that you can enjoy greater privacy. Guest rooms, children's bedrooms and heavy traffic areas are placed away from the master bedroom, making it a cozy getaway from noise and commotion. You may opt for a master suite with a sitting area so that you can fully appreciate the privacy and peace that this type of plan can offer.
Effective Space
A crucial design attribute of a functional floor plan is the effective use of space. Split-master designs typically eliminate the need for a hallway because the kitchen and living areas are usually used to separate the two sleeping zones of the home. The result is a better use of square footage for essential uses instead of just a walkway. Many new homes are priced by the square foot, so it's important to get your money's worth when utilizing the space within.
Broad Segment
A split-master bedroom design not only appeals to those with children, but other segments of the population as well. Empty-nesters find this type of home attractive because the extra bedrooms can easily be turned into office space or guest rooms, making it convenient for adult children to visit. Professionals may also enjoy the design by selecting one of the secondary bedrooms for office space, a library or exercise room. Those who have live-in parents can also enjoy this type of plan while maintaining a level of independence.
Re-Saleability
Due to the popularity of this type of home, you may be pleasantly surprised when it comes time to sell. Because this plan is versatile and can be enjoyed by a wide variety of people, it may hold its value better than other designs. You may want to check with your local real estate agent to get the take on this type of floor plan and it's re-saleability in your area.
References
Writer Bio
Meribeth Phipps has been a real estate broker since 2000, specializing in residential new home sales. She holds a bachelor's degree in business and marketing.