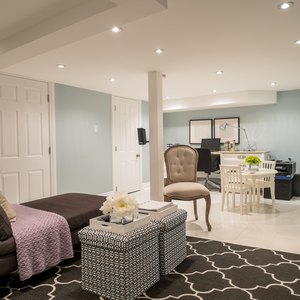 •••
Sisoje/iStock/GettyImages
If you're looking for a home with a basement, your luck may depend on where you live. Basements have declined in popularity in recent years, but homeowners in colder climates tend to have them due to codes requiring that foundations fall at or below the frost line. A basement will cost, on average, $10 to $25 per square foot to build, compared to $3 to $5 per square foot with a concrete slab.
With new construction, a basement costs between $10 and $25 per square foot, depending on the size, location and grading necessary to excavate the ground and construct the basement.
Cost to Build a Basement
A basement can come in handy in a dangerous storm as well as add extra square footage to your house. If you finish the basement, you'll even get additional living space. Although it will cost more to have the work done, you'll likely recoup some or all of that expense when you sell the property, since it increases your overall home size.
Before you opt for a basement, it's important to price it, comparing it to how much it will cost to have a crawl space or concrete slab instead. You may decide a bonus room or usable attic is a better alternative to digging deep into the earth's surface. Basements can also be prone to flooding in certain areas, so it can pay to get an expert opinion before you dig.
Average Basement Cost
When looking at all your options, you'll find a basement is the most expensive, on average running between $18,000 and $30,000 depending on the size, location and grading needed to achieve the desired results. To help with budgeting, the cost to dig a basement for new construction will be between $10 to $25 per square foot.
A contractor should be able to give you an estimate based on your unique needs. If your home will sit on a hill, you may be able to do what's called a daylight basement, which keeps digging to a minimum. The back and possibly the sides of your basement won't be underground in this scenario, which can save you money as well as give you windows to keep your basement from being too dark.
Cost for a Crawl Space
It can help, while using a basement cost estimator, to know what alternatives cost. A crawl space is a great alternative to the ever-popular concrete slab, but it may cost more. The benefit of this type of foundation is that it elevates the house, protecting it against water damage if your area tends to get a lot of rain.
The average cost of a crawl space for new construction is $7 per square foot, which means it will run you anywhere from $8,000 to $21,000 on a typical house. A slightly cheaper alternative is a pier and beam foundation, which elevates the house using piers and beams and averages $5 per square foot, or $8,000 to $15,000.
Cost for a Concrete Slab
In many areas of the U.S., you'll find most new homes are built on a concrete slab. It's far cheaper than other types of construction, averaging $3 to $5 per square foot. The actual cost varies depending on the type of slab. There are two types:
Monolithic concrete slab ­– With this type of foundation, the entire slab is poured at the same time. The cost for this type of slab averages $4 per square foot, or $4,500 to $12,000, making it the option with the biggest cost savings.
Stem wall concrete slab – This type of foundation is usually built with rebar-reinforced walls to provide resistance against soil changes. You'll find this type of foundation is around $5 per square foot, or $7,000 to $21,000.
Due to the lower expense when compared to the cost to dig a basement for new construction, many builders often opt for a concrete slab foundation. It allows developers to offer more house for the money.
Cost to Finish a Basement
In addition to figuring the cost to build a basement, you may also want to price finishing that basement. Even if you don't do it when you initially move in, you may want to know how much you'll need to spend to keep in mind for future improvements. The price varies dramatically, depending on the square footage to be renovated, how you plan to use the space and whether you want extras like a fireplace or washer-dryer hookups.
The price tag for the cost to dig a basement on new construction is much higher than what you'll pay to finish one you already have. It will cost, on average, between $5,100 and $8,750. Of course, this cost depends on the square footage and nature of your renovations, and you can keep that cost down quite a bit by only finishing a portion of your basement and leaving the rest for storage.
Add Basement to Existing Home
You can technically add a basement to an existing home, but it will cost you. The home will need to be excavated, and then the ground beneath it will have to be dug to make room for that extra floor below. The home will then be set on top of the basement.
A basement cost estimator for this type of work will likely land you somewhere between $30,000 to $70,000 for the project. While this is definitely the most expensive option, you may find that it gives you a sturdier house. It may also increase your home's value, especially if you choose to finish that basement and turn it into extra living space. However, building an above-ground addition to your house might be far more cost effective.
Additional Basement Costs
When figuring the cost to build a basement, it's important to look at all the additional costs associated with having a basement in your home. If you're in an area where moisture is an issue, you'll need to waterproof it. The cost for this averages $500 to $3,500, although if it's part of construction, you'll probably get a deal on this price. A sump pump may also be necessary if water is likely to head in the direction of your basement, and that will add another $1,000 or so to the price.
Unless you want a cold, drafty space below your house, you'll also need to factor in the cost to insulate it. The average cost for doing this using spray foam is between $2,000 and $8,000, which includes the ceilings and walls. If you have a daylight basement, where part of the area is exposed to the outside, you'll also need to factor in the cost of insulating doors and windows.
Cost of Basement Repairs
Over time, homes settle, sometimes leading to cracks and other issues with the foundation. Just as you'd have to pay to repair the foundation if this happened, you'll also need to put money into repairing the basement if problems arise. On the low end of pricing is a bowing basement wall, which happens due to soil conditions and usually costs anywhere from $350 to $1,000 per reinforcement strip to fix.
For bigger issues, though, basements are more expensive to repair than any other type of foundation. Your basement cost estimator should keep in mind that basements can sink, settle and leak, in addition to the possibility that the walls will bow. The exact cost depends on whether you catch the issue early, before it escalates.
References
Writer Bio
Stephanie Faris has written about finance for entrepreneurs and marketing firms since 2013. She spent nearly a year as a ghostwriter for a credit card processing service and has ghostwritten about finance for numerous marketing firms and entrepreneurs. Her work has appeared on The Motley Fool, MoneyGeek, Ecommerce Insiders, GoBankingRates, and ThriveBy30.