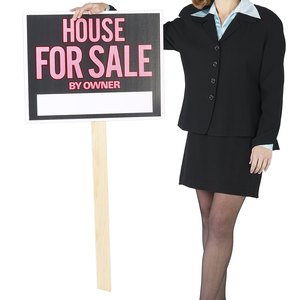 •••
Hemera Technologies/PhotoObjects.net/Getty Images
Selling a house takes knowledge, patience, hard work and time. Hiring a real estate agent to handle your transaction involves paying a commission. A "For Sale by Owner" seller may save money selling his property solo but still must hire other real estate professionals to finalize the deal. Weigh the costs in time and money before deciding whether to use a professional or sell your home yourself.
Pricing
Read local publications to understand whether you're in a seller's or buyer's market. This affects your pricing. Hiring a licensed real estate agent costs approximately 6 percent of the selling price. Your agent knows the market and can pull a comparative market analysis before suggesting a listing price. Pricing a property may be one the hardest tasks for a non-professional.
Multiple Listing Service
Agents display your home on the multiple listing service which automatically feeds into Realtor.com and other online listing sites. This service is included in the commission you're paying. You can contract a fee-based listing service to put your home on the MLS. On your fee-based MLS listing, you must offer a buyer's agent commission – suggested at 50 percent of the full local commission rate.
Marketing
A real estate agent markets your home and pays for that expense. As a FSBO, you'll make your own collateral materials or pay a professional. If you're paying an MLS service fee, use the marketing materials they supply and save on that expense. Advertising on various internet sites also involves a fee.
Time is Money
Plan to be home during the day, in the evenings and on weekends to show your home. Schedule open houses on Sundays and serve refreshments, which is what agents do when you've listed a property. Consider the amount of time you need to show your home, your signage and refreshments as part of the cost of a FSBO.
Disclosures
Each state has its own requirements regarding real estate disclosures by sellers. Your real estate agent handles this for you. Consulting a real estate attorney is worth his fee at this point, as the legalities involved in selling yourself are complex. Some FSBO sites provide legal advice as part of the package you pay for.
Purchase Contract
A private seller qualifies the buyer himself and handles negotiations. Costly details can be overlooked by a non-professional, especially when emotions enter the discussion. FSBO buyers also negotiate deeper, knowing the seller won't have to pay a commission. A real estate agent acts as a buffer to get you the best price possible.
Net Results
A study by Northwestern University found that FSBO sellers in Madison, Wis., saved money by not paying a commission, but the time it took to sell the house was longer than if listed through an agent. It also found that 20 percent of the FSBO listings that did not sell were turned over to an agent for marketing.
References
Writer Bio
Jann Seal is published in magazines throughout the country and is noted for her design and decor articles and celebrity *in-home* interviews. An English degree from the University of Maryland and extensive travels and relocations to other countries have added to her decorating insight.