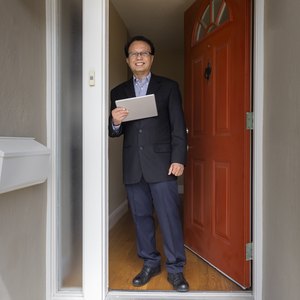 •••
JasonDoiy/iStock/GettyImages
Whether you plan to sell your home or shop for one, you'll most likely want to get help from real estate professionals along the way and take advantage of their expertise rather than navigate the process on your own. You might be most familiar with real estate agents who perform a variety of tasks for home sellers and buyers during a real estate transaction. However, there are also real estate brokers who have the qualifications to take on additional roles in the profession. Use this guide to learn about the different types of real estate professionals you might encounter as a buyer or seller.
Role of a Real Estate Agent
Helping buyers shop for homes and sellers find potential buyers, real estate agents serve as an important intermediary in a real estate transaction as they offer assistance from start to finish. These real estate professionals complete a state-approved training program in real estate sales to prepare to meet the state's licensing requirements and take the license exam. When they start their careers, real estate agents work for a state-determined time period under a licensed broker, often taking advantage of pre-licensing courses offered by their managing broker. They need continuing education to keep their real estate license.
When selling a home, a real estate agent acts as a listing agent or seller's agent and provides the marketing, financial, real estate and legal expertise needed for the sale. They will give advice on preparing the home for sale, determine a proper sale price and help the seller navigate the offer and negotiation process. The listing agent will help with tasks such as home showings and open house events, advertise the home on various platforms, evaluate the suitability of buyers and handle the array of paperwork involved in a home sale.
A real estate agent who works for a client buying a property is called a buyer's agent and has the role of helping the client determine the type of property that fits their needs, locate possible options on the market, arrange for on-site visits and guide the buyer through the offer and negotiation phases. They can also help home buyers with financial tasks like finding a lender and appraiser and arranging for required home inspections. The buyer's sales agent will help the buyer through closing with all the paperwork involved.
Knowing About Dual Agency
In some cases, a real estate agent chosen by a seller as the listing agent to market and sell their home may also end up being the same person who serves as a buyer's agent for a potential buyer. This can happen if you're a buyer who sees a listing for the property on a real estate website and then contacts the listing agent directly to learn more about the home or schedule a personal showing. It can also happen if you've established a relationship with a buyer's agent already and ask them about properties they're promoting.
Dual agency is the term for this scenario that is legal in some states, and it can offer benefits to both the buyer and seller. If you're the home's buyer, you can benefit from the fact that the agent who has handled the entire transaction so far has the most knowledge as well as a direct connection to the seller. If you're the seller, you might find that you have a better chance negotiating the commission when there won't be a separate buyer's agent to split costs with, although success can vary.
On the other hand, you'll need to be aware of a significant risk of dual agency. While the code of ethics for real estate professionals requires neutrality for the good of the buyer or seller helped, things can get trickier when the same agent works with people on both sides of the transaction. This can potentially lead to challenges regarding negotiating the price for the house. The good news is that agents have to inform you if they serve as a dual agent, and you need to agree to proceed with that information in mind.
Role of a Real Estate Broker
Often having more real estate training and having to meet additional state requirements, a real estate broker has a more flexible role than a real estate agent. Real estate professionals who work as brokers are able to serve as a listing agent or buyer's agent for clients directly and perform the duties of real estate agents. However, they have the extra authority to open their own brokerage and hire real estate agents that they train and oversee regularly, or they can work as an associate broker under another broker.
The option to run a real estate office means that this role requires brokers to wear many hats as they run their businesses. They'd handle areas such as marketing, finance and management as well as the duties involved with hiring others to help with tasks they don't have the expertise or time to do themselves. If they hire agents to work with them, real estate brokers also need excellent people management skills to help their brokerages succeed.
State requirements for the role may include a number of years of real estate agent experience, and potentially a minimum transaction number, as well as broker-specific training, a college degree and completion of their state's real estate broker licensing exam. A real estate broker also has to deal with continuing education requirements to maintain their broker's license.
What Being a REALTOR Means
Although you might hear of real estate professionals, in general, being called realtors, the term REALTOR really refers to a licensed broker or salesperson who has gone through the steps to become a member of the National Association of Realtors (NAR) trade association. Interested real estate professionals start by joining an association in their area, submitting to the code of ethics the NAR has created for members and paying yearly dues of ​$150​. A REALTOR can gain several benefits through membership such as training resources. You might opt to hire a REALTOR due to the higher standards for ethics required.
Commission and Home Price Effects
A home's seller usually has to pay a commission to both the buyer's agent and listing agent. The amount will be based on the property's sale price and will usually total ​5 or 6 percent​. Unless there's a dual agent involved, half that amount will go to the listing agent and half to the buyer's agent. An additional split can then happen with brokers involved.
It is possible for the commission percentage to be negotiated – especially if only one real estate professional helps both the seller and buyer. The workload required for the real estate transaction plus the location can also affect whether the commission can be reduced.
While this means that a buyer won't incur an expense for a buyer's agent they use, the use of real estate professionals who need paid commission can affect both parties financially in the transaction. Since commissions cut into the seller's profit on their home, they may request a higher price for the property. If you're the buyer, this means you end up paying more for the house since the seller will need to compensate for their commission expense.
Looking for Real Estate Professionals
Whether you're looking for a buyer's agent or listing agent, you'll find that you have a lot of options in your community to sort through. So, it's a good idea to find a few different agents and assess who might be the best fit to help you buy or sell a home.
To get started, you might ask people you know who have bought or sold homes recently for a recommendation since this can cut down on your time researching options. You can also look for recommendations on community social media pages or websites. If you end up attending open houses before you have a real estate professional chosen, the agents hosting the events might be potential options to consider as well as agents you see named on property listing pages.
You might also consider looking into real estate brokerages and using real estate websites to conveniently find a variety of agents to work with as a buyer or seller. For example, you can visit real estate firm websites such as those of Century 21 and Sibcy Cline to access a directory of agents and their credentials and expertise. Home listing sites like Realtor.com also have a "find an agent" tool that can connect you with options in your location and tell you whether the person is a REALTOR.
Picking a Real Estate Professional
Once you have identified potential real estate salespersons, take time to learn more about the options before agreeing to work with a specific agent. You can interview potential real estate professionals to find out which strengths they offer for your situation and to make sure they have the qualities that make them a good fit for your home sale or purchase. You can also ask about their type and years of experience. For example, you'll want to make sure they know enough about the area where you plan to sell or buy and that they have experience working with individuals with your needs.
It also helps to ask some questions to get a better idea of how the working relationship might be with the real estate professional. For example, you might ask about how large their client base is, where they specialize and how long they've worked in the real estate industry. Along with researching the professional's reputation online and verifying their credentials through real estate databases, you might also request that they connect you to past clients who can provide a reference.
Being Your Own Agent
Homeowners who need to sell their home but don't want to hand over control to a real estate professional or pay the real estate commission costs involved have the option to serve as their own agent and sell the house independently. This means handling all or most of a listing agent's work, seeking legal advice as needed and navigating the home transaction on your own time. Considering your buyer may still use an agent, you might save on half the commission this way. However, you face risks like taking too low an offer, lacking important skills or expertise and possibly making errors along the way that affect the transaction.
Similarly, you can buy a house without seeking a real estate agent if you're willing to research and handle tasks such as hiring professional help and navigating negotiations on your own. You might get a better deal on your new home since the seller won't have to pay for a buyer's agent. However, you can face challenges such as not knowing how much to offer for a home and dealing with confusing paperwork where someone with a professional real estate career could otherwise help.
References
Writer Bio
Ashley Donohoe has written about business and technology topics since 2010. Having a Master of Business Administration degree, bookkeeping certification and experience running a small business and doing tax returns, she is knowledgeable about the tax issues individuals and businesses face. Other places featuring her business writing include Zacks, JobHero, LoveToKnow, Bizfluent, Chron and Study.com.