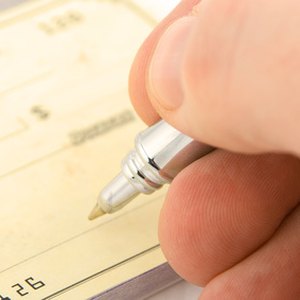 •••
signing check image by jovica antoski from Fotolia.com
Banks use various series of numbers to manage accounts and fund information. On every check by a Federal Deposit Insurance Corporation (FDIC) approved bank is a nine-digit number assigned to financial institutions by The American Bankers Association (ABA) to identify the financial institution upon which a payment was drawn. According to ABA, routing numbers are sometimes referred to as "check routing numbers," "ABA numbers," or "routing transit numbers" (RTN). It is important to identify this number if you want to receive or send money using a bank wire.
Identify the various series of numbers in the lower left corner of a check. Three groups of numbers are listed there, separated by spaces.
Locate the first nine-digit number series. These nine digits represent the routing number for your bank.
Obtain the next set of numbers. This set of numbers is the account number. The number of digits for an account number will vary by bank.
Locate the last set of numbers. This set is the check number.
References
Writer Bio
Mehmet Karakus began writing professionally in 2010. His work focuses on projects, process, finance and product management. He has worked for organizations helping to enhance management to increase efficiency. He has also been published in "PMI Magazine." Karakus received a degree in electrical engineering from Northeastern University.