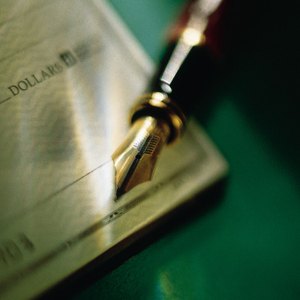 •••
Comstock/Comstock/Getty Images
Although they are inanimate objects, checks have a life cycle. They're born on a commercial printing press, rest silently in bundled packs until called to service and finally stamped to death (i.e., canceled) by a bank. Some folks preserve the paper corpses for a while until final disposal, perhaps to be recycled for new purposes.
Online banking threatens to make paper checks extinct, but it's hard to predict when. Until then, basic financial literacy demands we understand how checks work, including their cancellation.
Understanding Canceled Checks
New blank checks arrive at your mailbox freshly printed, numbered and grouped in packs. Each check has the information necessary to draw funds from your checking account at a financial institution – a bank, brokerage or credit union. You use them to pay bills, withdraw cash from your own account and transfer money to others.
Ultimately, your bank, called the issuing bank, settles the check (i.e., debits funds from your account to the payee's). It cancels settled checks by stamping relevant information on one or both sides.
Canceled checks serve as proof of payment. It was once common practice for account holders to reconcile them to their monthly bank statements to guard against errors, although this is now often done electronically.
Reading Canceled Checks
When a payee presents a check for payment, the payee's bank stamps the back of the check with the bank name and the depositor's account number. The bank also appends a series of numbers to identify bank endorsements from supervisors and tellers.
You can read the payee bank stamp when inspecting your canceled check, verifying to whom the check was paid. Banks use a clearing and settlement system regulated by the Federal Reserve Bank to transfer funds from the check writer's account to the payee's.
If the check is valid, the issuing bank's clearing and settlement agent applies another stamp (usually below the bank of the payee), showing that the check was approved for payment and the amount deducted from your account. The issuing bank may stamp "Paid" on the check front, and additional stamps may record the check's progress through the Federal Reserve System.
Distinguishing Canceled Checks From Voided and Returned Ones
Checks are canceled after the funds are paid to the payee, so you can't stop payment on them. A voided check has the word "VOID" on its front, preventing it from transferring money. It will never be canceled. You write a voided check to prove that you have a bank account and to share your account number with a payee or other financial institution, often to set up automatic payments and direct deposits.
A returned check is one that didn't clear successfully for any of various reasons. Often called a bounced check, a returned check does not transfer funds and receives special markings to denote its status. If you write a check that is returned because you have insufficient funds, you'll probably have to pay a fee, typically around ​$35​ (unless you have overdraft protection).
The bank may report the incident to ChexSystems®, where it will remain for ​five years​ and possibly prevent you from opening a new bank account.
Getting a Copy of a Canceled Check
Your bank may include your canceled checks with your monthly statement in paper or electronic form. More often, it can make scanned check images of your canceled checks available to you online upon request. You can also request a canceled paper copy from a bank teller or a customer service agent.
Banks and credit unions usually keep canceled checks on file for ​seven years​. You might have to pay a fee for an older canceled check.
You may need canceled checks to reconcile your account, prove payments or clear up mistakes. When finished using a canceled check, you should shred or otherwise destroy it to prevent theft of your bank account number.
References
Tips
Though it's not common, some banks stamp the word "Paid" on the front of the check instead of on the back.
Some banks may also include a stamp from the Federal Reserve regional bank through which many checks are processed.
Writer Bio
Eric Bank is a senior business, finance and real estate writer, freelancing since 2002. He has written thousands of articles about business, finance, insurance, real estate, investing, annuities, taxes, credit repair, accounting and student loans. Eric writes articles, blogs and SEO-friendly website content for dozens of clients worldwide, including get.com, badcredit.org and valuepenguin.com. Eric holds two Master's Degrees -- in Business Administration and in Finance. His website is ericbank.com.