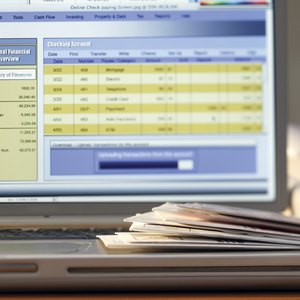 •••
Comstock/Comstock/Getty Images
Quick rates are available all over the Internet — from CD rates, mortgage rates, money market funds to retirement investments. Quick rate deposits can be made online once you find the most desirable financial product. QwickRate is also the name of one of the largest, non-brokered source of CD investments and funding for more than 3,000 institutions, such as credit unions, according to their website.
CD Market Funding for Banks
Banks that want to build up their base of core deposits (i.e., liquidity) often look beyond local customers to national and institutional depositors, whose assets are not subject to as many privacy disclosures and government restrictions. To attract these midsize companies, nonprofits and other nonconsumer investors, they may sign up with the listing service of a clearinghouse of financial products such as QwickRate, which can lead them to purchasers of large-denomination CDs of up to $100,000. According to Debbie Walker of QwickRate, regulators can see these deposits as a "volatile source of funding" and require the institution to manage any risks involved. Even so, the QwickRate website reports that the Independent Community Bankers of America (ICBA) has chosen it as a preferred service provider.
CDs for Consumers
If you're a consumer looking for high-yield CDs and other liquid investments, many online banks can give you quick rates. To save on overhead costs, these banks (e.g., ING Direct) may be "virtual," with only an online presence, sending out electronic, not paper, statements. These savings are passed on to the consumer in the form of higher rates of return on investments. After obtaining the latest quick rates, consumers can manage their deposits online, including transferring and monitoring their funds.
Mortgage Rate Finders
Quick rates for consumer financing make comparison shopping easy. If you are going to apply for a first mortgage, refinance an existing mortgage or take out a home equity loan, then online banking websites and portal sites such as LendingTree that generate quotes from multiple sources will help. To calculate the rates and terms you are looking to qualify for, go to a website like Mortgagecalculator to find out current mortgage rates and how much you can afford when buying or refinancing a home. Then go to bank-rate comparison websites to find what interest rates and terms banks in your area are offering.
Other Consumer Financial Products
Other quick-rate finding tools can lead consumers to the best rates for personal credit cards, retirement accounts (for 401k rollovers or the self-employed), interest-bearing reward checking accounts, college savings investment tools and health savings accounts. According to Clark Schultz of MoneyRates, shopping around for the best deals is still worthwhile, even in an environment of extremely low interest rates.
References
Writer Bio
Lisa Smith has been an editor and writer since 1991. Her articles have appeared in "Newton Magazine" and she has contributed to myriad popular books, including "Masters of Deception" and "Click: The Ultimate Photography Guide for Generation Now." She earned her B.A. in semiotics from Brown University and completed coursework for an M.A. in history at New Mexico State University.