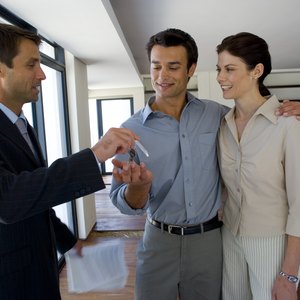 •••
Jupiterimages/Pixland/Getty Images
Owning a home with a white picket fence and a tree in the yard, part of the proverbial American dream, has long been part of our culture. Various government programs over the years have tried to help Americans realize that dream through financial assistance and by building communities. A major player in the process has been the U.S. Department of Housing and Urban Development.
What is HUD?
An act of Congress created the Department of Housing and Urban Development, commonly known as HUD, in 1965. At the time of HUD's creation, the Federal Housing Administration and Fannie Mae, the mortgage agency, had been operating under the auspices of the Housing and Home Finance Agency, called HHFA. HUD replaced HHFA as the federal cabinet-level agency in charge of public housing.
HUD's Mission
Part of the agency's mission is to help everyone find affordable housing through homeownership or rental properties. The agency seeks to protect consumers and improve the quality of life of its clients. In addition, the agency states that part of its mission is to boost the economy through supporting the housing market.
Major Programs
HUD at one time had 300 programs grouped largely under these headings: Community Planning and Development; Fair Housing and Equal Opportunity; FHA; Government National Mortgage Association, better known as Ginnie Mae; Healthy Homes and Lead Hazard Control; Housing Counseling Program; Office of Sustainable Communities; Public and Indian Housing; and several Temporary Programs.
FHA
One of the best-known HUD programs with documented results is the Federal Housing Administration. It bills itself as the largest insurer of mortgages in the world. More than 40 million mortgages have been insured through the FHA since 1934. FHA-backed loans assist individuals who might not otherwise be approved for a home mortgage through traditional lending.
American Housing
HUD claims that "Americans are arguably the best housed people in the world" and that the agency "has helped greatly with that success." The agency cites a decline of homelessness in the United States since 2010. HUD officials claim partial credit for this statistic, citing one program as an example -- a cooperative effort with the Department of Veterans Affairs for housing 43,371 formerly homeless veterans.
Waste and Abuse
Opponents argue that waste of taxpayers' dollars is evident in a number of HUD programs. Tad DeHaven, writing for the Cato Institute, provides details on a number of abuses and questionable grants documented in HUD's Community Planning and Development programs. For example, an audit found that almost $13 million earmarked for redevelopment in San Diego was either spent on ineligible activities or not recorded properly. This is one example of many that DeHaven cites, adding up to perhaps hundreds of millions of dollars where HUD money has been erroneously spent. Thus, whether HUD has met its mission over the years can depend on whom you ask.
References
Resources
Writer Bio
Vicki A Benge began writing professionally in 1984 as a newspaper reporter. A small-business owner since 1999, Benge has worked as a licensed insurance agent and has more than 20 years experience in income tax preparation for businesses and individuals. Her business and finance articles can be found on the websites of "The Arizona Republic," "Houston Chronicle," The Motley Fool, "San Francisco Chronicle," and Zacks, among others.