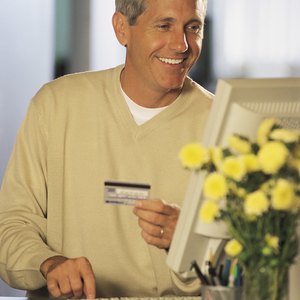 •••
Ablestock.com/AbleStock.com/Getty Images
The self-employed offer a bonanza of opportunity to the Internal Revenue Service when it comes to audits that might turn up extra taxes due. The IRS particularly focuses on businesses that take in a lot of cash, because it's easy for such sole proprietors to overlook or neglect to report every nickel and dime. If you're self-employed and the IRS comes calling to check your records, you'll fare best if you can substantiate what income your business did – and did not – take in.
Retail Businesses
If the source of your self-employment income is retail, you may be in luck. You probably use a cash register to ring up sales – and if you don't, you should. A cash register logs every dime coming in to your business. If the IRS has questions – or even if you just want to tally your income at the end of the day or the month for your own bookkeeping purposes – all you need do is run a comprehensive tape of all transactions for a given time period. This is typically good enough for the IRS.
Independent Contractors
Not all self-employed taxpayers operate from a set location where customers appear and purchase products and services. Many are independent contractors – they offer services to their clients and collect income per job. If a client is a business and it pays you more than $600 during the year, the business is required to give you and the IRS a 1099-MISC showing the amount. Payments under $600 are trickier. Ideally, you will invoice each client when a job is completed. If you keep an invoice book or software with sequential numbers – and if there are no breaks in the chronology – you can show the IRS exactly what your business billed during the year. Written contracts detailing the deal you have with each client, such as the work he wants you to perform and due dates, can also back up your invoices.
Bank Records
Your most valuable proof for the IRS may be your bank account. The IRS accepts bank statements and deposit slips to prove income – and, in fact, will review your statements to make sure your account doesn't hold substantially more money than what you claimed you earned. If you submit an invoice to a client, and if he then pays you and you deposit that money either to your business or personal account, you can mark the invoice paid in your records and attach a copy of the bank statement or slip showing the deposit. If your client pays you in cash, it might be tempting to just slip the bills in your wallet, but if you don't mark the invoice as paid, you can't you prove to the IRS exactly what the client paid you. Depositing the money instead – even if you make a cash withdrawal for the same amount the next day – creates a paper trail for that particular job.
Non-Income Deposits
If the IRS decides to audit your business records, it can be just as important to prove what's not income as it is to substantiate what is income. For example, if you're a sole proprietor, you might find yourself in tight financial situations periodically. You might "loan" your business some money, moving a few thousand from your personal account to your business account. A friend or relative might lend you some money to tide you over until clients pay you. If your personal account is the source of your business loan, your bank statements can substantiate that the money moved from your personal account into your business account and that it therefore wasn't earned income. If someone else loaned you the money, however, confirm the transaction in writing. Include repayment terms and ask your donor to sign and date the document.
References
Writer Bio
Beverly Bird has been writing professionally for over 30 years. She is also a paralegal, specializing in areas of personal finance, bankruptcy and estate law. She writes as the tax expert for The Balance.