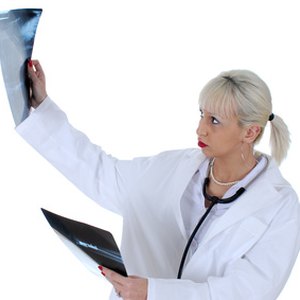 Medicare is available in four basic sections. Parts A and B are the original Medicare plans and cover inpatient and outpatient hospital services, home health care, hospice and preventive health screenings. Part C, Medicare Advantage was added later, and lets users combine their A and B benefits with others, such as vision or dental. Part D Medicare has coverage only for prescription drugs. As of 2011, 12 standardized Medicare supplements are available. Only one, Plan F, is a high-deductible policy, although others have cost-shares with annual out-of-pocket limits.
Premiums
Medicare supplemental plans are sold by private insurance companies. The benefits each plan offers is standardized by the federal government, but the insurance companies get to decide what monthly premium to charge. High-deductible Plan F allows users to pay lower monthly premiums than the standard Plan F. However, Plan F is still among the more expensive of the Medigap policies.
Deductible
Along with paying the monthly premium costs, you will also have to pay all medical costs yourself until you reach your yearly deductible. While this may sound acceptable if you are in good health, it can be a problem if you become seriously ill. As of 2011, the deductible for Plan F was $2,000, and nothing prevents it from going higher in the future. If you do become sick and need to use your Medigap coverage, it might be difficult for your or your family to pay all your costs until you reach the deductible and the insurance kicks in.
Covered Benefits
High-deductible Plan F offers all the same benefits as the regular Plan F. These include the basic benefits all Medigap policies come with, such as the costs of the first three pints of blood per year, coinsurance for Part B and the coinsurance for Part A after original Medicare's hospital benefits are gone. Plan F also adds coverage for Part B's excess charges, the Part B deductible, medical emergencies which occur while you are outside the U.S. and the coinsurance for skilled nursing facility care. The drawback to this is that Medigap Plan N also offers these benefits, except for Part B deductible coverage, but for a lower monthly premium.
Foreign Travel Emergencies
While high-deductible plan F does contain the foreign travel emergency benefit, it does not cover 100 percent of these costs. The foreign travel benefit comes with its own separate deductible, which must be met before benefits will be paid. This does not count toward your annual deductible amount. Even if you have already reached $2,000 in out-of-pocket expenses for the year, you will have to pay the foreign travel emergency deductible as well if you want to use its services.
References
Writer Bio
Amber D. Walker has been writing professionally since 1989. She has had essays published in "Fort Worth Weekly," "Starsong," "Paper Bag," "Living Buddhism" and more. Walker holds a Bachelor of Arts degree in English from the University of Texas and worked as an English teacher abroad for six years.