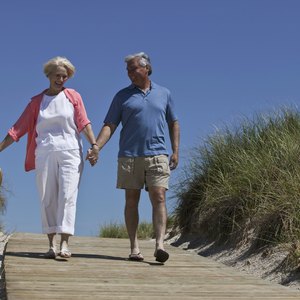 •••
Comstock Images/Comstock/Getty Images
AARP, a nonprofit organization for Americans aged 50 and older, first began in 1958. Today it ranks as "the second-biggest nongovernmental entity in the United States", according to The New York Times. With over 40 million members, it has built an "unrivaled power base as the voice of older Americans". Originally known as the American Association of Retired People, it changed its name to AARP in 2000. It lowered the age requirement from 55 to 50 in 1984. AARP's mission, as stated on its website, is "to enhance the quality of life for all as we age". Currently, AARP has offices in the 50 American states.
Pros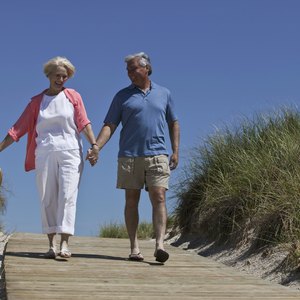 •••
Comstock Images/Comstock/Getty Images
Membership in AARP is inexpensive--$16 per person as of 2010, with free membership for a spouse or partner. Membership includes many discount programs: car rentals, hotels, vacation packages, tours and product purchases. In addition, free subscriptions to "AARP The Magazine" and "AARP Bulletin" come with membership. AARP lobbies Washington on issues affecting senior citizens, and its website provides information on issues like health and politics.
Cons: Lobbying
AARP's lobbying, in certain instances, has been viewed as a negative. According to The Rubins, a website for seniors, 70,000 members resigned in 2006 to protest AARP's Washington influence in passing the Medicare Prescription Drug law; these members wanted Medicare to centralize prescription-drug purchasing. Another 60,000 members did the same in 2009 over AARP's stand in President Obama's health-care reforms. Many felt AARP should poll members' views and lobby as results dictated.
Cons: Marketing
One of the most frequent negatives expressed by members is the amount of marketing material received through snail mail and e-mail. The amount of brochures, letters and flyers selling their products can become overwhelming, especially just after joining.
Insurance: Pros & Cons
AARP offers many insurance products--including health, home, auto and motorcycle--which constitutes a pro. However, even though AARP markets these products as the cheapest, sometimes other insurance companies sell the same services for less. For example, one member told The Rubins that he phoned the number cited in an AARP brochure for significant savings and learned that the auto-insurer charged nearly double his current coverage. In addition, Iowa's Senator Charles E. Grassley's has cited evidence of deceptive marketing on AARP's part in regards to their health insurance.
References
Writer Bio
Nina Kramer, a novelist who published her first novel in 2002, is currently working on a series of novels set in modern China. Previously, she managed the American Society of Civil Engineers' journals department. A passionate gardener and home decorator, she has a B.A. in English literature from George Washington University.