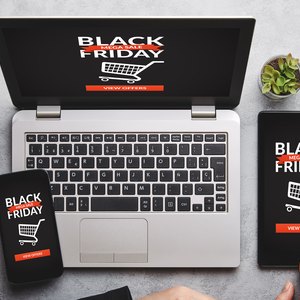 •••
CarmenMurillo/iStock/GettyImages
Thanks to more stores offering their Black Friday sales online, Forbes reports that people spent $6.2 billion shopping online last Black Friday, and this number is expected to grow. Shopping from the comfort of your home can help you find special deals, shop smarter and access a larger selection of products. At the same time though, you can miss out on in-store offers, the chance to try products and the fun that can come with shopping with loved ones. So, before you stay home or head out to the crowds, consider these online Black Friday shopping pros and cons to decide what's right for you.
Pro: Earlier Black Friday Sales
When you do your Black Friday shopping online, you can gain access to pre-Black Friday sales from major retailers days or even weeks before the official sale. For example, Target and Walmart let customers gain access early on the Wednesday before Thanksgiving. Kohl's lets customers shop select Black Friday deals the first week of November and run their Black Friday sale the whole week of Thanksgiving. Meanwhile, Amazon holds holiday deals the entire month.
Con: Shipping Hassles and Costs
If you want or need the item right now, shopping on Black Friday online might inconvenience you. While websites like Amazon might advertise one- or two-day shipping, the Seattle Times reports that shipping can take longer during the busy holiday season due to a large influx of orders. If your online retailer doesn't ship free or will only do so if you spend a high amount, you might end up spending more money unless you can find another way to avoid paying for shipping.
Pro: Wide Access to Deals
Even if you skip the store to get Black Friday deals online, you can often get many of the products you see advertised in Black Friday ads. You might see some products that are only in-store doorbusters, but you'll also find online-only offers and benefit from a larger inventory for deals you see. For example, Best Buy advertises some Black Friday offers that only are available online and can save you more money versus buying in the store. You might also find online coupon codes you can use as well as online rebates to save you more money.
Con: Some Deals Aren't Online
While major retailers do, not all stores have an online presence yet. Those that do offer their Black Friday sales online still often have some in-store doorbuster deals that will require a physical visit. For example, Lowes will have some deals on appliances, mattresses and holiday decor only in their stores. Other stores like Best Buy, Meijer, Walmart and Target commonly have in-store doorbusters on popular electronics like TVs and laptops. So, if you can't find the item online for a good price, you might want to prepare to line up at your local store.
Pro: Less Stress and Inconvenience
If you hate dealing with crowds, traffic, parking and long lines, then doing your Black Friday shopping online can give you a much more pleasant experience. After all, you can just sit on the couch with your laptop and browse deals from hundreds of stores. This not only cuts your stress, but State Farm suggests it can even keep you safer from robberies and accidents that happen on the busy shopping day. You'll also find it easier to fit online shopping into your busy Thanksgiving week.
Con: Missed Fun and Bonding
Some find shopping in person on Black Friday stressful and chaotic. But others enjoy the opportunity the day brings to bond with friends and family members over deals. Shopping on Black Friday online takes away the social aspect so that you miss out on having your family there with you to shop for gifts and ask for advice. You also miss out on the adrenaline rush some get from shopping in large crowds. So, if you're a person who enjoys the excitement and company, you might prefer to shop in the stores – at least for some of your gifts.
Pro: Easier to Do Research
When you're at the store, you might not have enough time to go on your phone to compare prices or make sure the product has good reviews. You might miss out on a better deal or buy something on impulse just to return it. Shopping on Black Friday online makes it simple to look up product reviews, research retailers, check price tracking sites and find coupons and rebates that save you more money. You can also more easily check your budget and shopping list to make sure that you don't overspend or buy duplicate gifts.
Con: No Physical Product Access
Shopping online on Black Friday 2019 comes with the limitation that you can't physically try or inspect the item that you're buying. This might be fine for common household items, but it becomes a bigger issue when you're shopping for clothes or not sure which gadget is right for you. Shopping at a physical store would allow you to try on the clothes or try out different laptop models as well as get advice from a salesperson. To reduce your risk, carefully check the retailer's return policy so that you can easily return the item if it doesn't work out.
When considering these pros and cons to decide if you should shop online this Black Friday, know it doesn't have to be all or nothing. You might find you can maximize your savings and still gain some convenience by shopping mostly online but also a little in the store. So, don't feel you need to miss out on those in-store deal busters and family time to make online Black Friday shopping work for you.
References
Writer Bio
Ashley Donohoe has written about business and technology topics since 2010. Having a Master of Business Administration degree, bookkeeping certification and experience running a small business and doing tax returns, she is knowledgeable about the tax issues individuals and businesses face. Other places featuring her business writing include Zacks, JobHero, LoveToKnow, Bizfluent, Chron and Study.com.