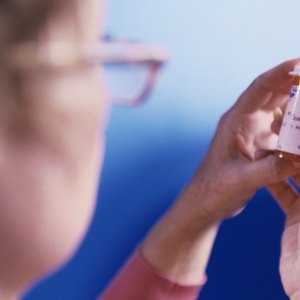 •••
Ingram Publishing/Ingram Publishing/Getty Images
The National Health Interview Survey reported more than one in four families had financial difficulty because of the cost of medical care in 2012. In 2011, 12.6 percent of adults between the ages of 18 and 64 were likely not to take prescription medication to save money. Private and government programs are available that can help ease the financial burden of prescription medication for those without health insurance drug benefits.
The Partnership for Prescription Assistance
The Partnership for Prescription Assistance helps patients connect with public and private assistance programs that help pay for prescription medications. The program works with patients who do not have prescription coverage. Patients provide the Partnership for Prescription Assistance with prescription medication, income and insurance coverage information, and the organization will advise individuals on the prescription programs for which they may qualify. Patients may qualify for free or nearly free brand name and generic medications. Biopharmaceutical research companies sponsor the Partnership for Prescription Assistance. The organization provides information on 475 public and private programs that offer prescription drug assistance.
The Affordable Care Act and Prescription Benefits
The Affordable Care Act was signed into law in 2010 and requires health insurance companies to offer insurance policies that provide prescription drug benefits. Health insurance companies must offer insurance policies that comply with the law to participate in the health insurance marketplace. In addition, health insurance policies must cover a minimum of one drug in every category and class in the U.S. Pharmacopea, which is the United States' list of approved medications. The law also requires states that are expanding their Medicaid programs to include prescription drug benefits in the programs. Medicare recipients who have reached the gap in prescription drug coverage in the Medicare Part D prescription drug plans will receive a 50 percent discount on medications after reaching the gap in coverage.
Medicaid and the Children's Health Insurance Program
The federal government and individual states provide the funding for Medicaid and the Children's Health Insurance Program. Medicaid provides health coverage to low-income individuals and families whose income meets eligibility requirements. All states provide prescription drug coverage through their Medicaid program to eligible families and individuals. The Children's Health Insurance Program provides coverage to children in families with incomes that are too high to meet Medicaid eligibility requirements. The benefits in the program vary by state, because each state can design the children's program.
Pharmaceutical Company Assistance Programs
Some pharmaceutical companies have programs to help patients afford their prescription medications. Applicants must meet the company's eligibility requirements. The requirements may include income and residency for applicants without prescription drug coverage. Programs may also allow patients to remain enrolled for up to a year.
References
Writer Bio
Luanne Kelchner works out of Daytona Beach, Florida and has been freelance writing full time since 2008. Her ghostwriting work has covered a variety of topics but mainly focuses on health and home improvement articles. Kelchner has a degree from Southern New Hampshire University in English language and literature.