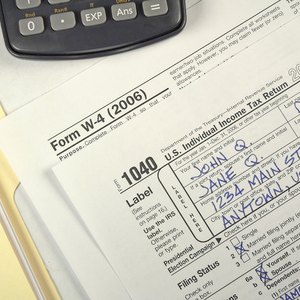 Employees must fill out W-4 forms before they receive wages. These forms enable an employer to withhold federal income tax from earned income. Because many people experience changes in their financial or personal situations, employees can fill out and file new W-4 forms at any time to keep their tax withholding amounts accurate.
Go to the Adobe website to download a free reader application that will enable you to access and download portable document format (PDF) files. Proceed through the prompts on the pages to download and install the program on your computer.
Go to the Internal Revenue Service (IRS) website to access a W-4 form that you can download.
Fill in the empty fields on the W-4 form by clicking your mouse on the fields and entering the appropriate information. If you'd prefer, you can print the blank PDF file and fill it out manually.
Click the printer icon at the top left corner of the W-4 document to print either the blank or the filled-out form. You can also save the W-4 onto your hard drive by clicking the save icon immediately to the right of the printer icon.
References
Writer Bio
Kathryn Hatter is a veteran home-school educator, as well as an accomplished gardener, quilter, crocheter, cook, decorator and digital graphics creator. As a regular contributor to Natural News, many of Hatter's Internet publications focus on natural health and parenting. Hatter has also had publication on home improvement websites such as Redbeacon.