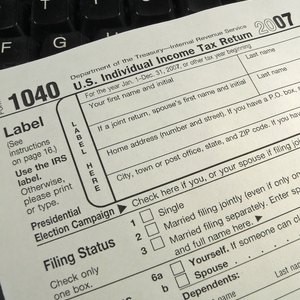 The instructions for IRS Schedule C contain an explanation of "principal business codes" and "professional activity codes" businesses and corporations must use to complete their business income tax returns. These codes identify specific occupations and industries. Use of these codes serves several different, useful purposes.
Description
"Principal business codes" and "professional activity codes" must be listed on IRS Schedule C for businesses and on corporation tax returns. These six-digit codes are known as the North American Industry Classification System (NAICS) and categorize various businesses and industries using a numbering system. For example, the NAICS code for amusement parks and arcades is 713100.
Functions
Principal business and professional activity codes serve several functions. First, they are used by organizations other than the IRS to classify business areas and industries to collect and report data relating to industry trends, income, profit ratios, and other information useful to researchers. The IRS uses the information for many of these same reasons but the codes can also help identify and detect returns to select for review or audit that include questionable deductions and credits inconsistent with normal business activity within those professions and industries.
Locating Your Code
The NAICS principal business and professional activity codes used by the IRS can be found on page C-9 in the 2009 IRS Instructions for Schedule C (Profit or Loss From Business) booklet.
Farming Activities
Taxpayers primarily engaged in farming activities report their principal business codes and financial information on IRS Schedule F.
References
Writer Bio
Roger Jewell has been a professional writer for over 20 years. He is a published author for both the Graduate Group and PublishAmerica, and is also a freelance writer. Jewell is a former attorney and private investigator. He earned his law degree from the University of La Verne School of Law.